April 1, 2015 Albany, NY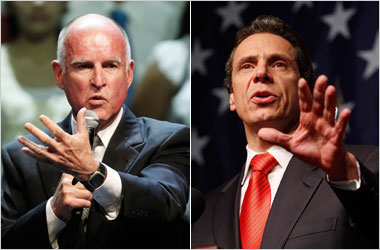 In an Unprecedented Bicoastal Agreement
Desperate times call for desperate measures said Governors Brown and Cuomo upon the announcement of the most expensive the public works project since the "Big Dig" in Boston.
With NASA sobering announcement that California will run out of water in 2016. an emergency summit was called by the two states that share so much.   With funds previously intended for the Keystone Pipeline project, thousands of Americans will be employed to build a massive modern technology aqueduct that to span the country like the Interstate Highway projects of the 50's.
Jilted Great Lake state governors and Ted Cruz have expressed great objections to the project which is projected to cost over One Quadrillionth Dollars. Brown and Cuomo justified the effort by citing the vast amount of wine reserves the states can share in exchange for water that other states may contribute.
Further details are coming on April 1 2016.
Places to Go, Things to Do • Dining Shopping
Beer Wine Cocktails • About the Authors