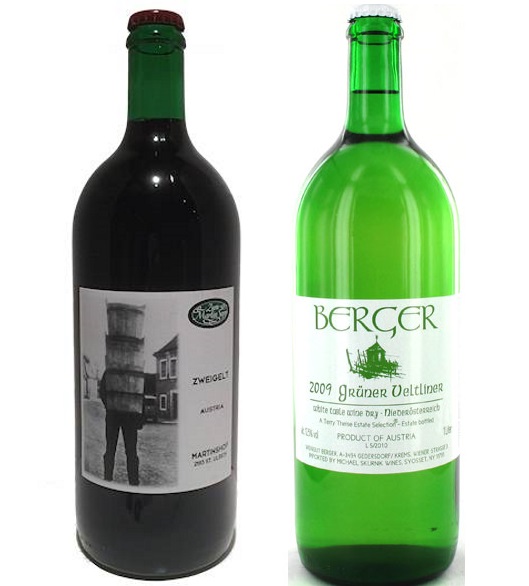 Quaff (kwäf) verb
Drink (something, especially an alcoholic drink) heartily.
synonyms: drink, swallow, gulp (down), guzzle, slurp, down
We love Austrian wine in the spring and summer, all year round really, but these inexpensive, full one liter bottles are great for picnics, BBQ's, any warm weather fun. The relatively low alcohol content, especially when cut with sparkling water, make them great summer quaffers.
Their "soda cap" tops are a curious novelty that your guests or host will love.
Found these two beauties at Viscount Wine in Wappinger Falls.
The  Zweigelt is a very refreshing medium bodied red wine that is made of a grape invented in 1922 by  Fritz Zweigelt  an Austrian researcher.  He crossed a favorite (and very good) Austrian red grape called Blaufränkisch, think a light bodied Syrah, and another popular Austrian grape called St. Laurent, a member of the Pinot Noir family. I love St. Laurent alone.
Zweigelt is very popular in Austria, this one is made by the touted Austrian wine maker Martin Sepp. he believes "Friends do you give from the best wine. Guests the very best. " And to him you are a guest.
The Gruner, Gruner Veltliner, is a bright white wine, think Sauvignon Blanc, that is great with light summer fare.  In the words of Eric Asimov, The New York Times, "Fresh and expressive, with citrus, floral and mineral flavors that linger in the mouth.  It practically invites you to have a second glass."
From the estate of Eric and Maria Berger this wine is one of the best affordable Gruners you can find. We drink it year after year. They believe "Living together with the nature that's real harmony." Just like here in the Hudson Valley.
Enjoy!
Places to Go, Things to Do • Dining Shopping
Beer Wine Cocktails • About the Authors