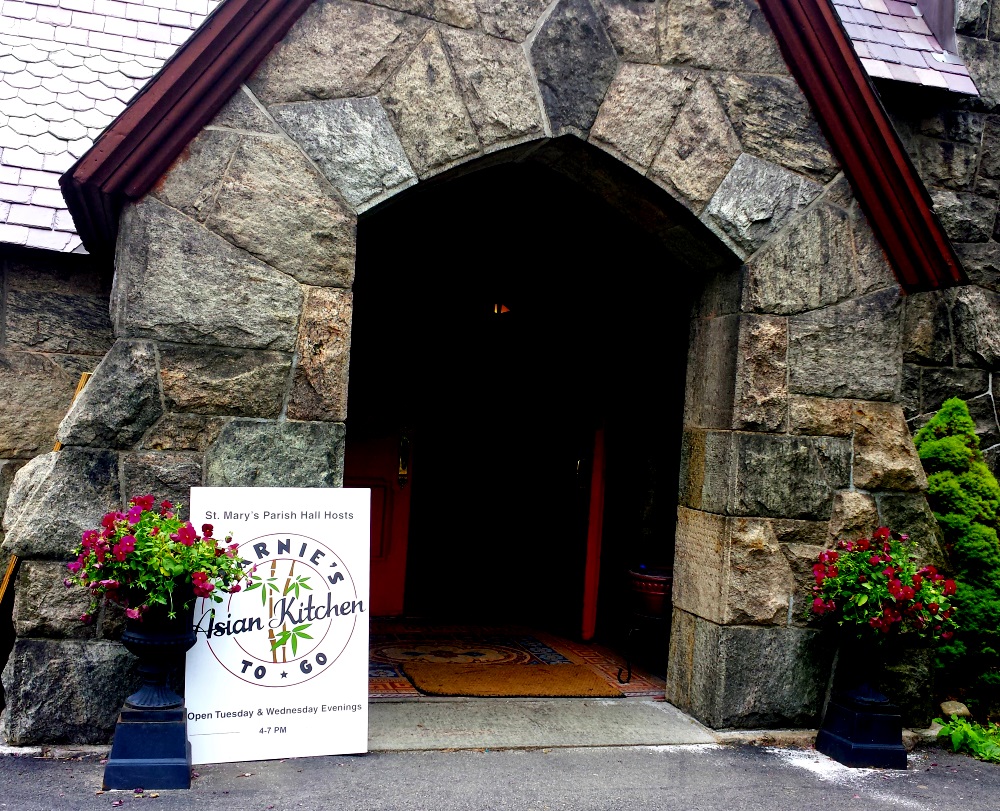 We have been so looking forward to tasting what Marnie Henricksson is serving at her latest venture Marnie's Asian Kitchen to Go that just opened in May.
Every Tuesday and Wednesday she is offering a very tempting menu of Asian cuisine out of St. Mary's Church in Cold Spring.
This past week we tried two dishes and loved them.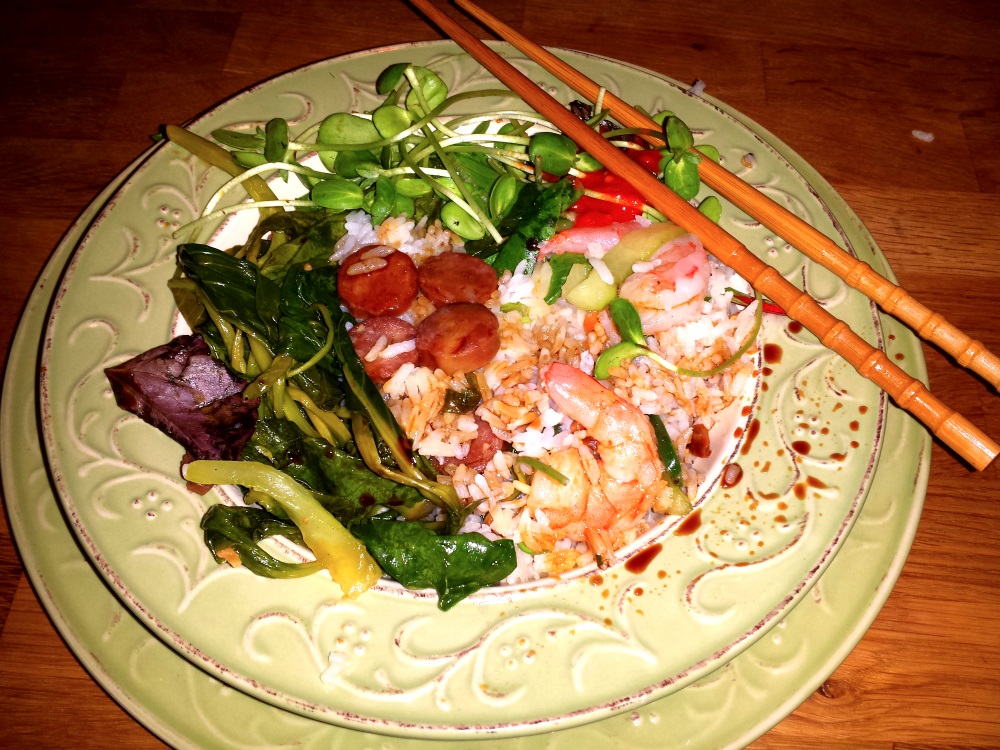 This is the jasmine rice salad  made with shrimp, peanuts, cucumber and herbs over mixed greens and the Chinese broccoli greens – sauteed with Chinese sausage, rice wine and soy over rice. The ingredients are so fresh, very well prepared. The jasmine rice sublime.
I added some fresh pea shoots to the dish and never being able to leave well enough alone added some flavors with these, but it was not necessary at all.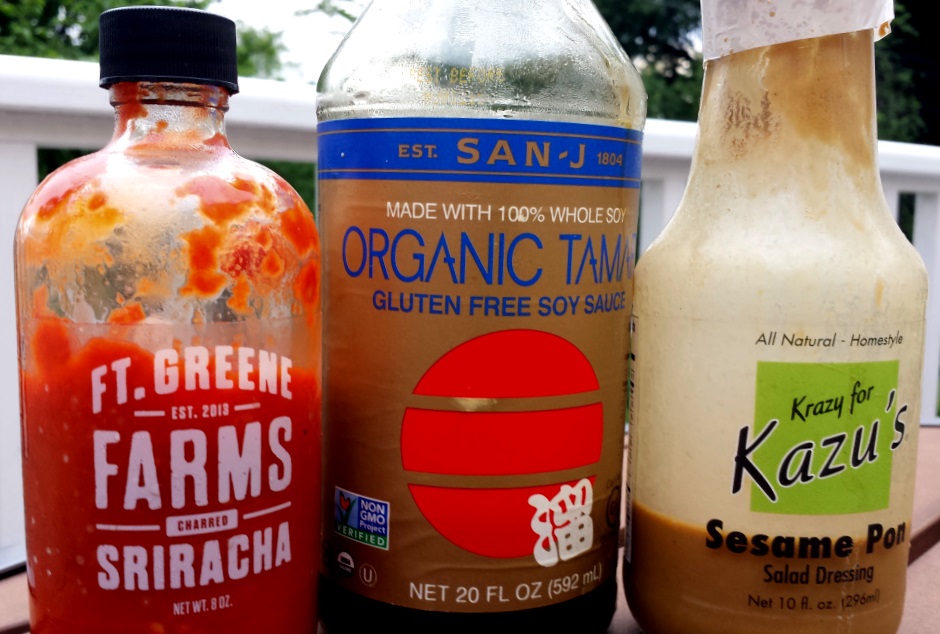 I do like an extra touch of hot spice on my Asia dishes, and Krazy for Kazu's Sesame Pon is great on the pea shoots.
We usually buy food at the farmers market for Saturday, Sunday, Monday and sometimes Tuesday. By Wednesday we are surely ready for someone else to make our diner and this is perfect.  Marnie's menu for the week is on her Facebook page.  Ordering is easily done by email and pickup is a breeze.
Marnie Henricksson brings years of experience to this great addition to Cold Spring. She had a restaurant in Putnam Valley which the NY Times gave a solid "Worth it" in 2010.  NY Times Article
Also read what reporter  Alison Rooney has to say at Phillipstown.info
The dishes we had were so tasty they stood up well to the this big South African Syrah we had.  I usually would pair a Riesling, Gruner Veltliner or Chenin Blanc with these dishes, but I was in the mood for a red wine.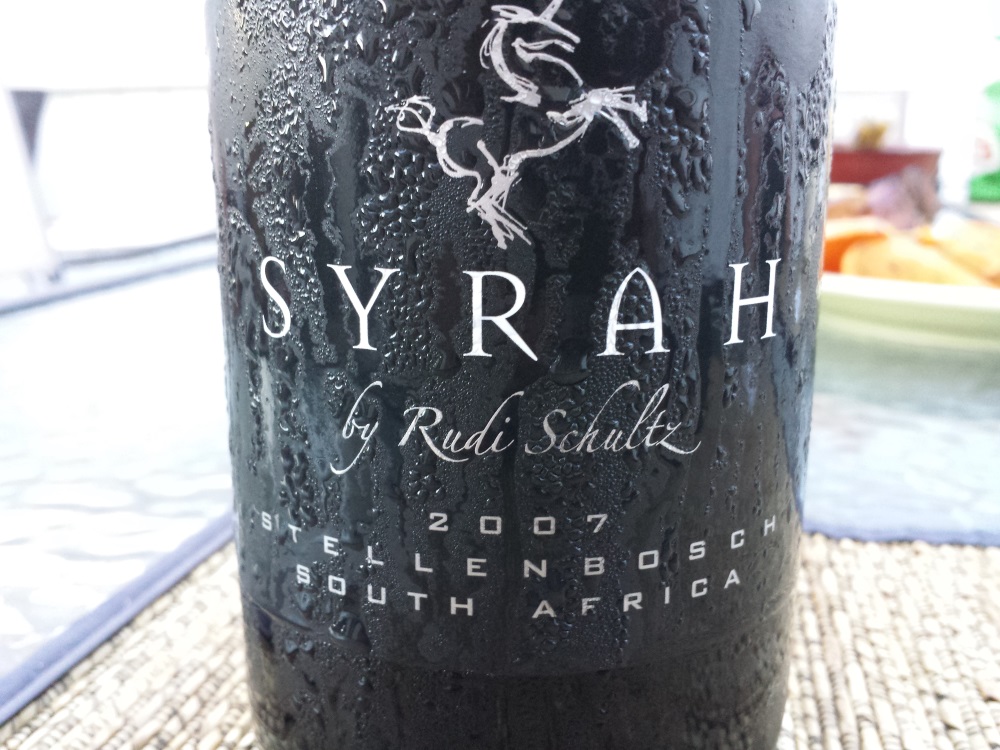 Say if you are interested in more food and wine parings check out our other blog at Manoavino:Taste, Exciting Wine, Food & Places.
Marnie's Asian Kitchen Take Out
Places to Go, Things to Do • Dining Shopping
Beer Wine Cocktails • About the Authors