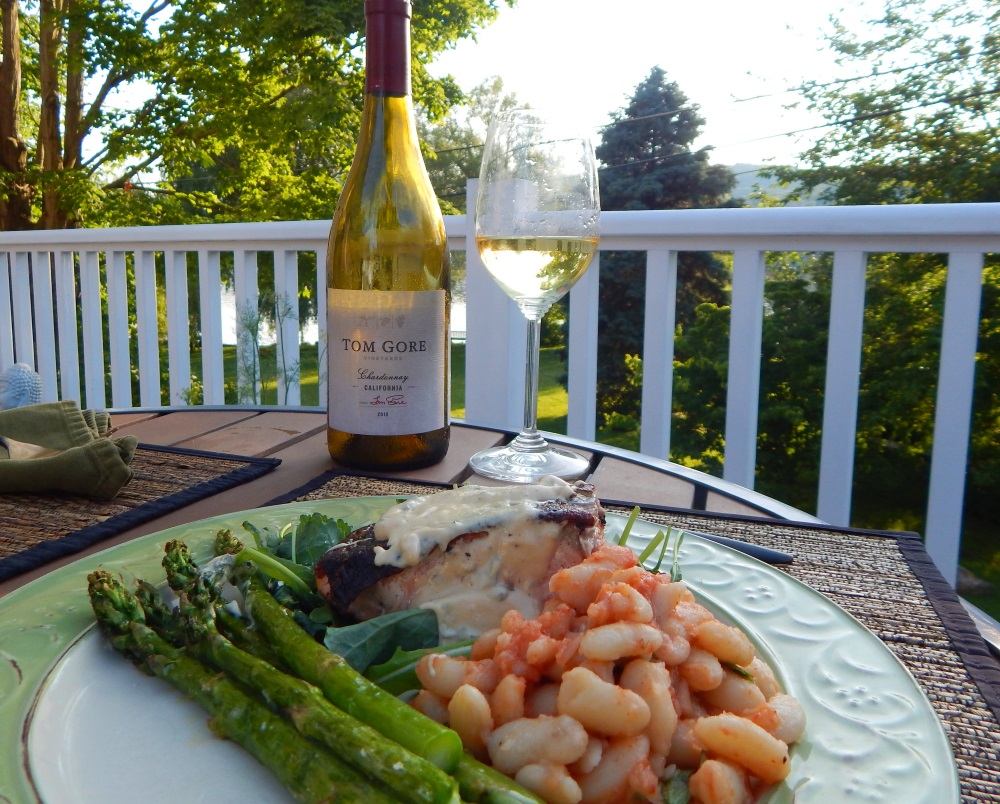 I think Hudson Valley and the Alexander Valley should sister valleys, you know like sister cities. They both have a rich history, a deep connection to farming and both home to some very good wine makers. Both named after brave early settlers.
Some weeks ago UPS delivered a wonderful gift from one of Alexander Valley's most beloved farmers, Tom Gore. A rustic wooden box filled with goodies and three of Tom's exciting wines. It took us some time, waiting for the right moment to enjoy each bottle, and now the are done. Luckily these wines seem to be available on the east coast as we are anxious to enjoy them again.
Here is the box we got.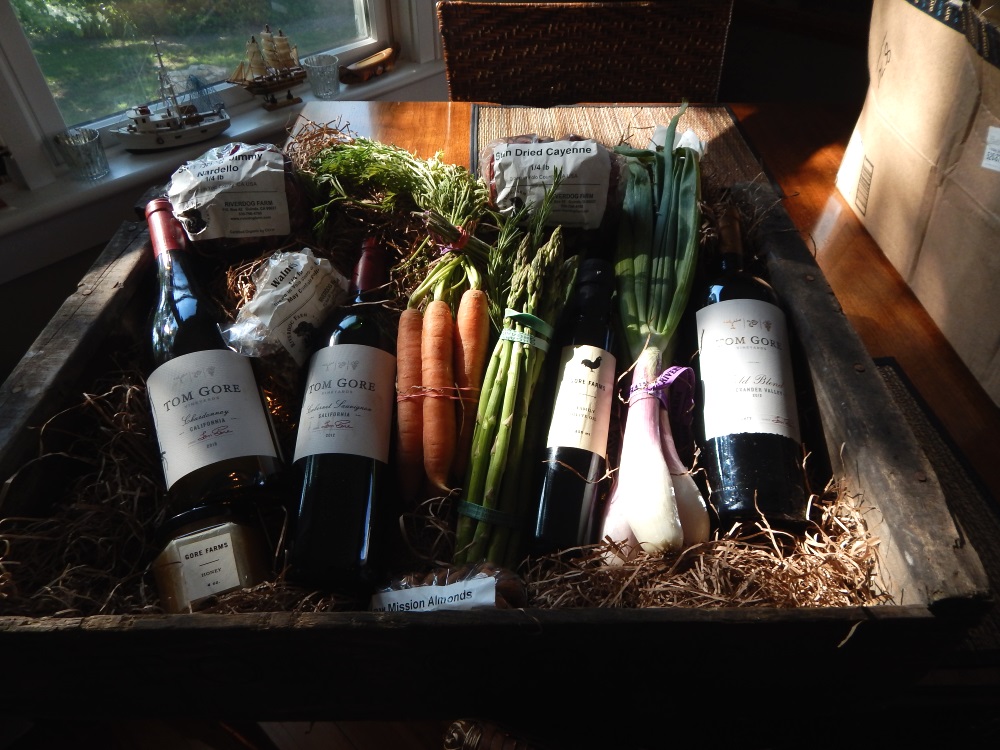 Filled with delicious fresh vegetables, the best dried peppers I have ever tasted in my life, delicious nuts, the farm's own olive oil, and what turned out to be some very good wine.
Yea the presentation made an impression, but it is what Tom seems to be all about, big, real, true to nature, passionate farming. He knows that the more  "TLC you can give them ( the land his vineyards), the more you'll get out."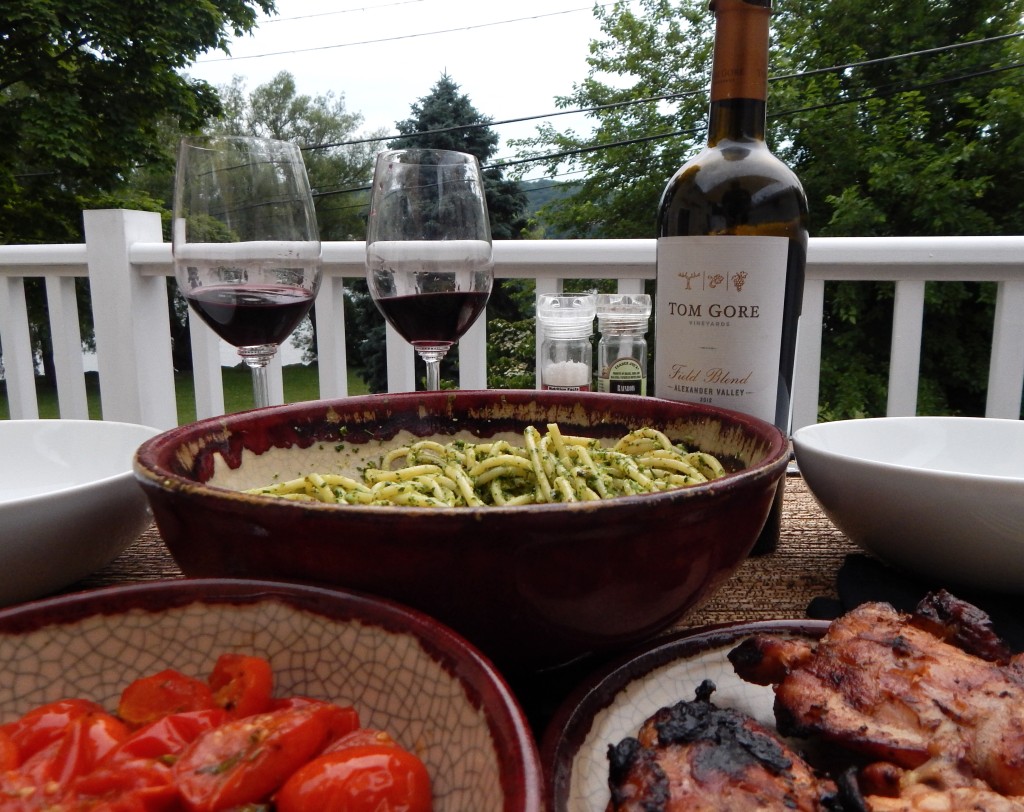 We had a lot of fun cooking, and eating and drinking with these wines. They are distinct in that they are rich in flavor with a beautiful pure quality that only keen attention to the growing process can bring. No need to manipulate in the winery.
Our first taste was Tom's Field Blend, with grilled chicken and tomatoes and a pasta with a parsley walnut pesto. This wine made with an ingenious blend of Petit Verdot, Malbec, Merlot, Cabernet Sauvignon, and Tempranillo is sensational. My favorite of the three.
His Chardonnay was perfect with a dinner, in the cover photo, of smoked arctic char, farm fresh asparagus, and french style white beans. The wine offered tender yet full apple and tropical flavors with just the right balance of acidity and wood. A perfect combination, and that is coming from someone who is not a huge fan of Chardonnay.
A second generation grape farmer Tom says, "grapes are my greatest passion." "I've learned that every decision you make in the vineyard can affect the quality and flavor of the grapes. So I craft my grapes, using meticulous farming techniques." and then asserts  "In the end, it's a difference you can taste in your glass."  I read these words after I drank his wines, and I had come to the same conclusion, these man really knows how to grow! The pure goodness of the juice is so palpable. I do see why he likes to call his wine "Farm to Glass."
Lastly we enjoyed Tom's Cabernet Sauvignon with a cooperative home cooked dinner made with friends. We tasted the wine against another California Cab, one that sold for 3 times the price.  And while that wine did have a bit deeper and nuanced flavors, we found Tom's to be the better food wine, with great balance and finesse.  There is a distinct quality in each of the wines that is hard to describe, we just know we love it.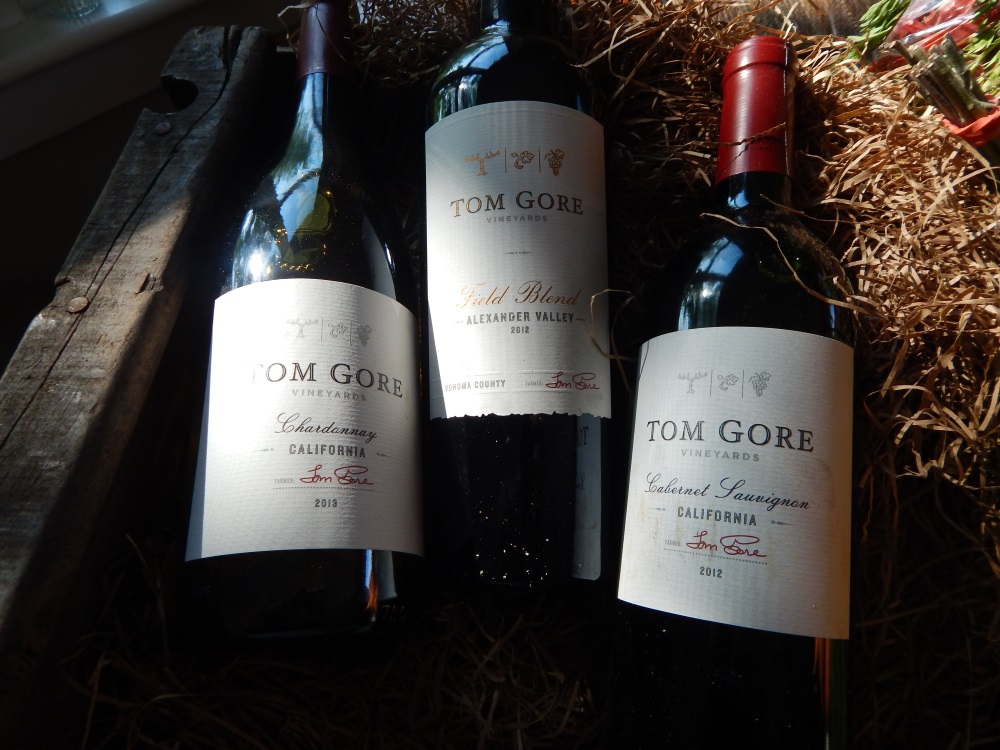 Tome Gore Vineyards
Alexander Valley, CA
Places to Go, Things to Do • Dining Shopping
Beer Wine Cocktails • About the Authors