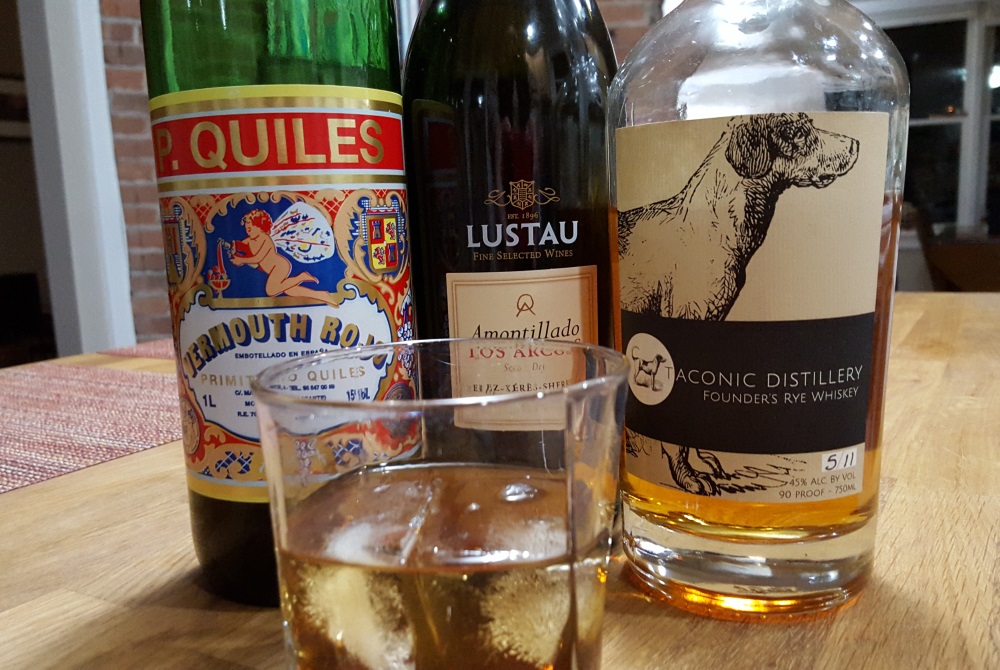 To warm my bones on a cold chilly night, I created this sumptious cocktail that brings together the fine flavors of a well crafted Hudson Valley whiskey and warmth from southern Mediterranean Spain.
This cocktail is a variation on the venerable Manhattan. The crisp deep flavors of Taconic Distillery rye, and the colorful notes of the P. Quiles Vermouth Rojo say clealy this is not your dad's Manhattan.  Stepping in to round out the drink, adding balance and another flavor element, the Lustau Amontillado dry sherry is the finishing touch to perfection.
Paul and Carol Ann Coughlin and Gerald Valenti are the exciting people who create the wonderful Founder's Rye Whiskey, in a bow to the history of our region it is named for our "Founding Fathers."
From the finance industry to farming was a move driven by a longing to work the land which brought the Coughlins to purchase a Duchess County farm with fertile fields and natural spring water. Here with Gerald Valenti they founded Taconic Distillery.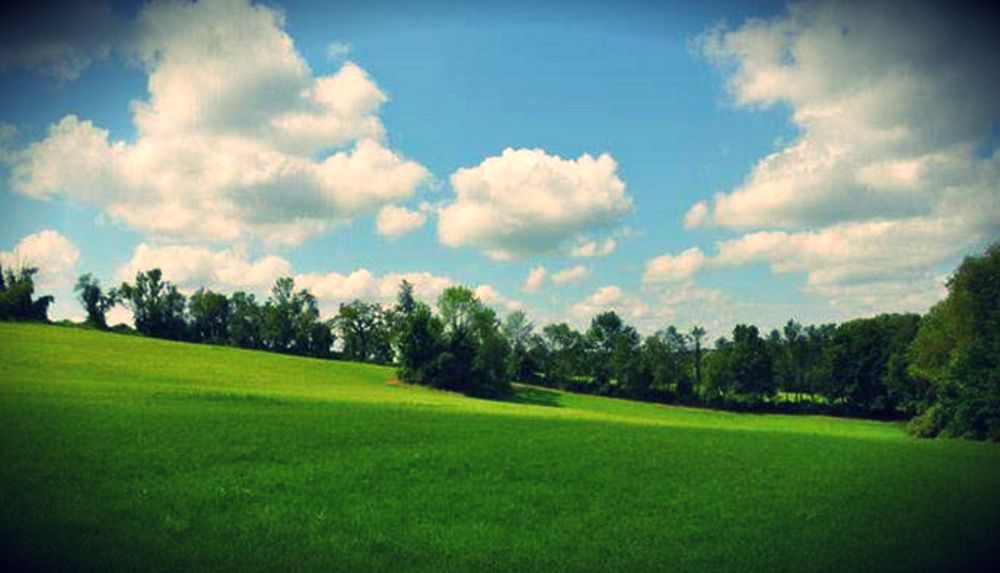 Distilling great whiskey is no easy feat, there are many steps which must be executed with precision,  and of course the very best ingredients must be used. This rye is created to the highest standards, aged in virgin American white oak barrels it has bold, smokey, spicy, yet surprisingly smooth, flavors with a mildly sweet finish.
It is a strapping base for the vivid mouth filling flavors of Primitivo Quiles Vermouth Rojo.  From the Alicante province south of Valencia on the Mediterranean sea, this aromatized and fortified wine is made with the efficacious Monastrell (Mourvedre) grape and a secret recipe of botanicals, Wonderful as an apéritif, fabulous for cocktails. Created by one of the greats of Spanish wine, Senor Don Primitivo Quile. His bodega (wine cellar not a NY convenience store) in Monovara, has existed since the 1700's.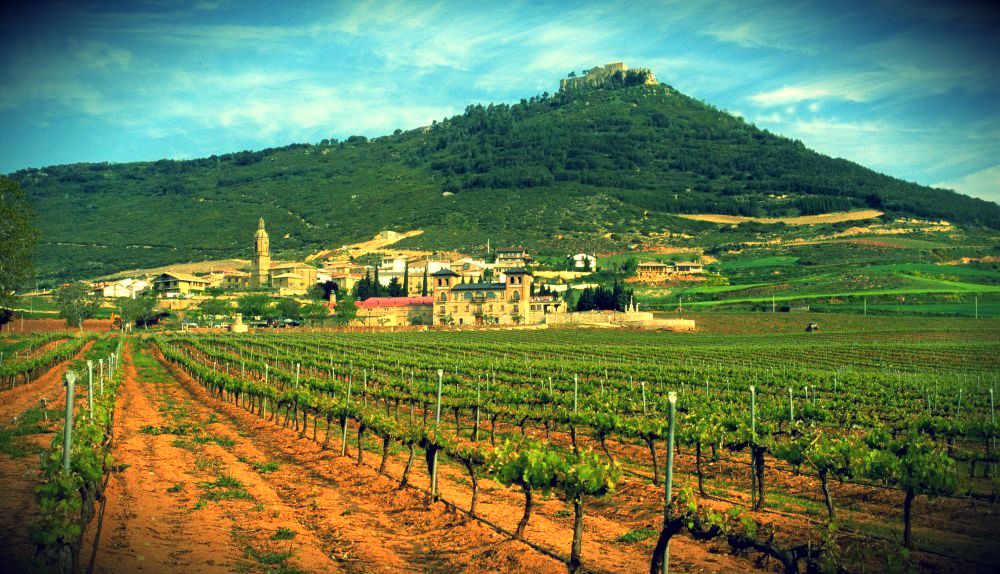 If you think of vermouth as awful tasting stuff stuck in the back of a cupboard or bar, you are right and wrong. Yes crappy cheap vermouth that is allowed to spoil does taste awful. But fine vermouth like this one, stored cold is a wonder to behold.  There are so many fabulous Vermouths available today, just waiting for you to discover and fall in love.
These two liquors would easily make a perfect cocktail, but they were each a little too dominant. I sipped and realized that one more element was needed.
Of course it had to be of equal stature, and a fine Spanish sherry seemed like it would be just the right thing.  You see like vermouth, sherry is a much maligned drink. It is not just for cooking, the better sherries are truly divine.
In the warm Andalusia region in southern Spain with coasts on the Mediterranean and Atlantic Bodegas Lustau was founded by a humble man José Ruiz-Berdejo in 1896. This winery has come to be regarded as the finest producer of sherry in the world.  The Amontillado Los Arcos Solera is a dry sherry with nutty, honey flavors, crisp and delicious.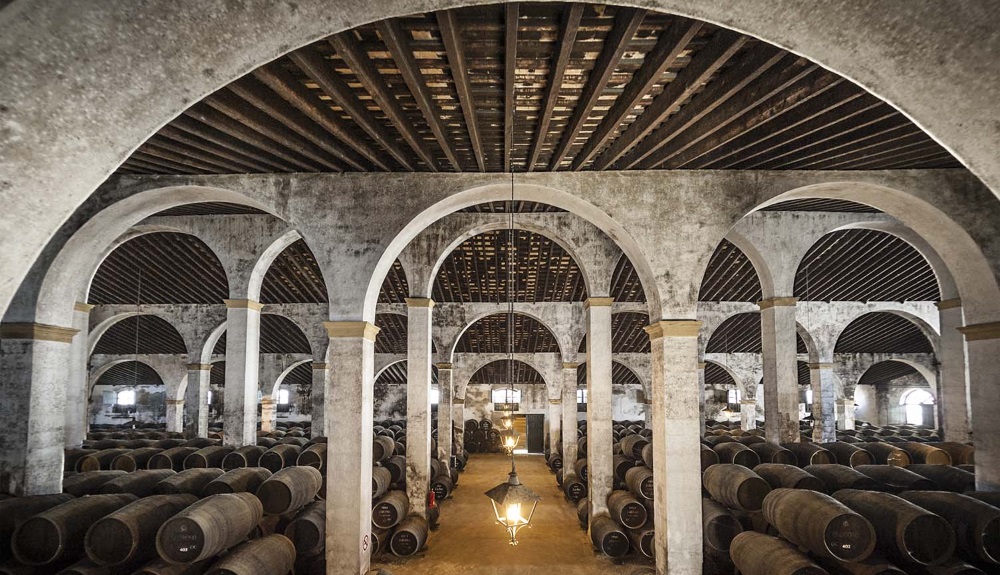 Spanish Warmth
The recipe:
1 1/2 oz Founders Rye
1 1/2 oz  Primitivo Quiles Vermouth Rojo.
1/2 oz  Lustau Amontillado Los Arcos Solera
Very cold spring water ice
stir well over ice, server straight up or on a large spring water ice rock.with a twist of lemon.
Cheers! Enjoy!
Taconic Founder's Rye can be found at many better liquor stores in the area.
Primitivo Quiles Vermouth Rojo was found at the exceptional Suburban Wines in Yorktown Heights.
The  Lustau Amontillado Los Arcos Solera we found at the excellent Artisan Wine Shop in Beacon.
Places to Go, Things to Do • Dining Shopping
Beer Wine Cocktails • About the Authors