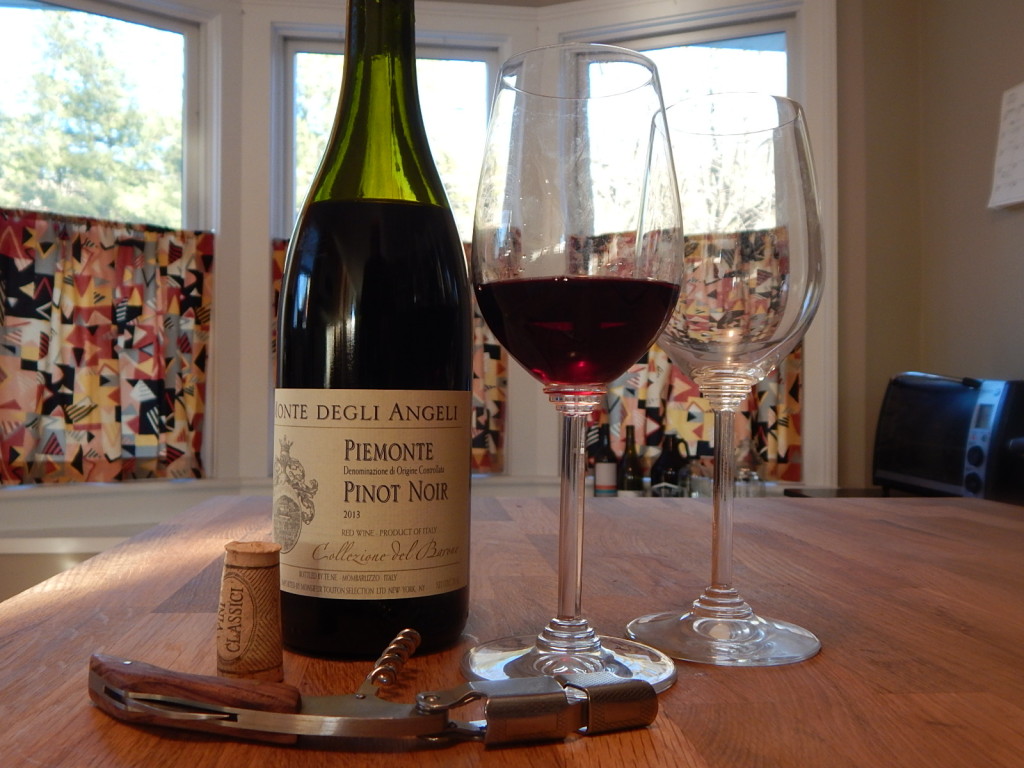 found at Yannitelli Wines, Cold Spring
We like Yannitelli wines and spirits for their eclectic offerings of well selected wines at good price points, value and premium.
From a region that produces mostly expensive Barolo wines comes an oddity that is a real value at $13.00. This delicious Pinot Noir is a fun everyday wine. Served with a delicious dinner we made a home.
You see Pinot Noir is not typically grown in Piedmont, Piemonte as they say in Italy,  the famous region in northern Italy known for its world class Barolo wines made with the great Nebbiolo grape.
I was curious so I decided to give the wine a try.  It has distinctly northern Italy personality, does not taste like the Pinot Noirs you will find from Burgundy, California, Washington State, or New Zealand. Proves what I have said so many times terrior is everything.
It paired so well with this globally influenced dinner, world meet local.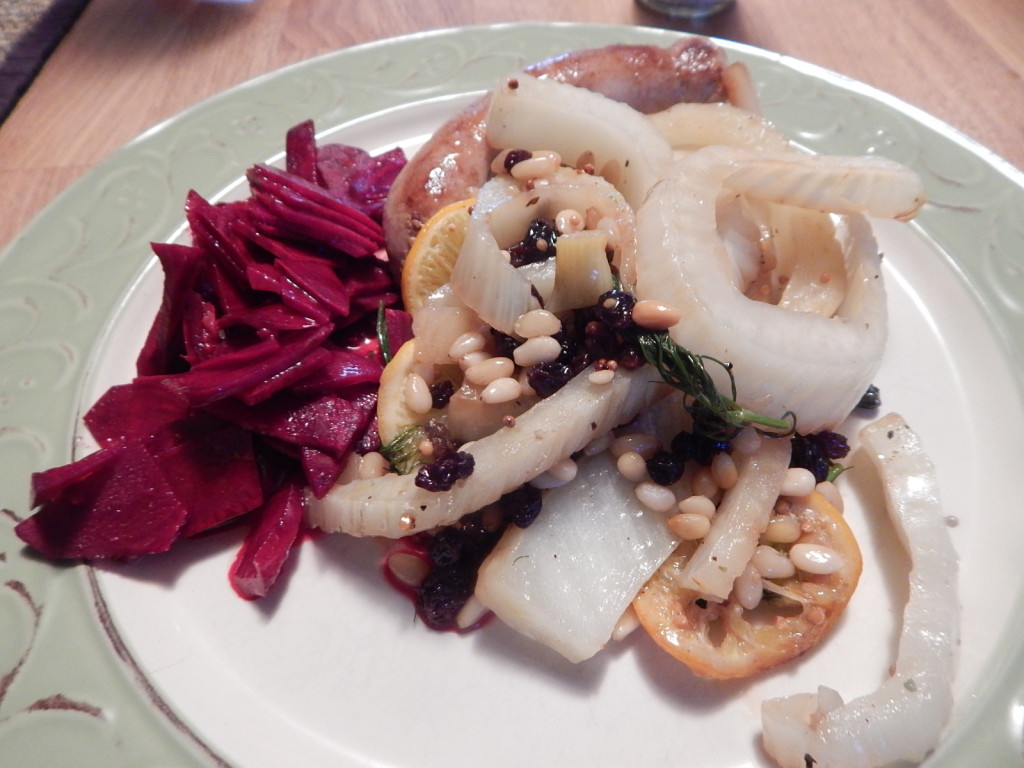 Asian Tarragon Beet Salad with Braised Fennel and Sausage, Currants, Pine Nuts.
Thursday night is either dinner out or making something out of whatever is left in the refrigerator. We had some hardy red beets that came from Madura Farms at the Cold Spring Farmers Market and some fresh Tarragon from the Foodtown. Diana found an exceptional recipe on Food52.com Beet Slaw with Tarragon with an Asian influence.  Pinot Noir pairs nicely with Asian cuisine.
We also had a big stalk of leafy fennel from Vera's. For a protein to go with that Diana picked up some delicious sausage at our favorite butcher Marbled Meat Shop next door to Vera's on Route 9.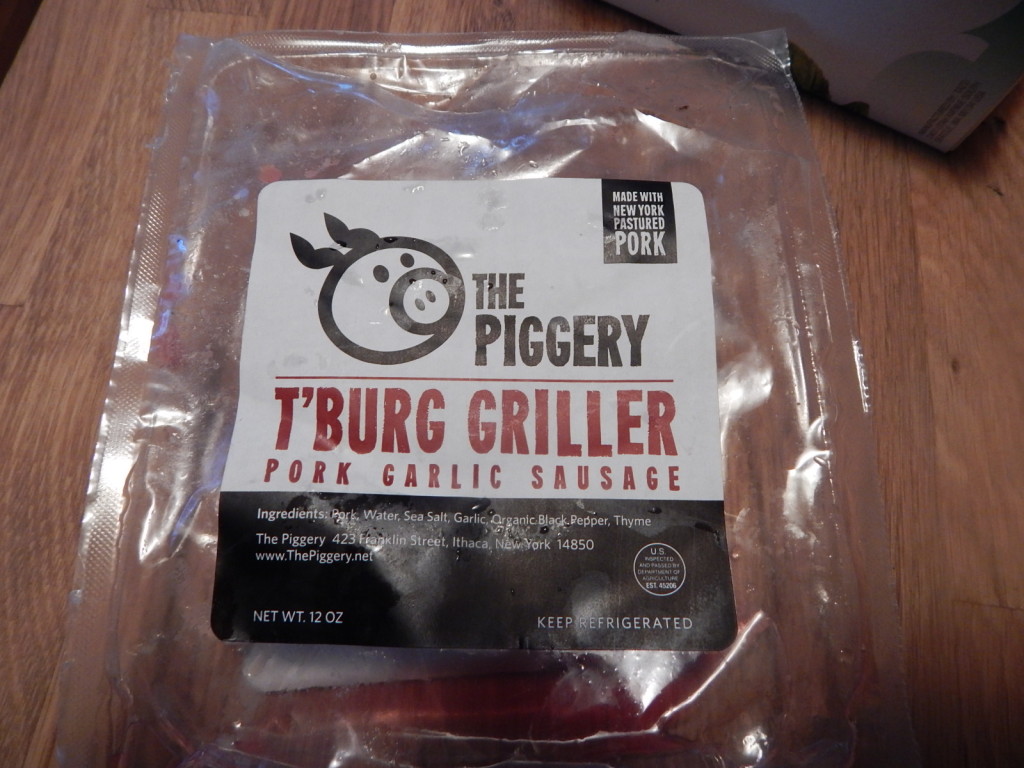 These great sausage are locally made by the Piggery in Ithaca NY, we have tried several of their savory recipes and loved them all.
I was originally planning an Italian recipe for the fennel with oregano and cheese but when Diana chose the Asian route I changed course. Sliced the fennel and browned it slightly in olive oil, then poured in some water and sweet white vermouth, added four turns of fresh ground sea salt and black pepper, let that boil down until the fennel started to soften, then lowered the heat and added currents and toasted pine nuts. I sauteed the sausage separately in olive oil until well browned, then added that to the fennel. Before serving I threw in the lacy fennel fronds for color and artistic effect. Pretty and delicious.
The wine is from the relatively unknown Monte Degli Angeli estate owned by brothers  Antonio and Paolo Sperone, they did not even get their name on the bottle. They run their small estate and create great wine with the same traditional practices embraced by their father and grandfather. They make an excellent Barolo, but recently tried their hand at Pinot Noir.
The result we think was quite good for a wine they can get to your wine store at under $15 price point. It has nice fruit flavors, with the rustic touches and complexity we love in northern Italian wines.
A great wine for almost any meal.
Places to Go, Things to Do • Dining Shopping
Beer Wine Cocktails • About the Authors