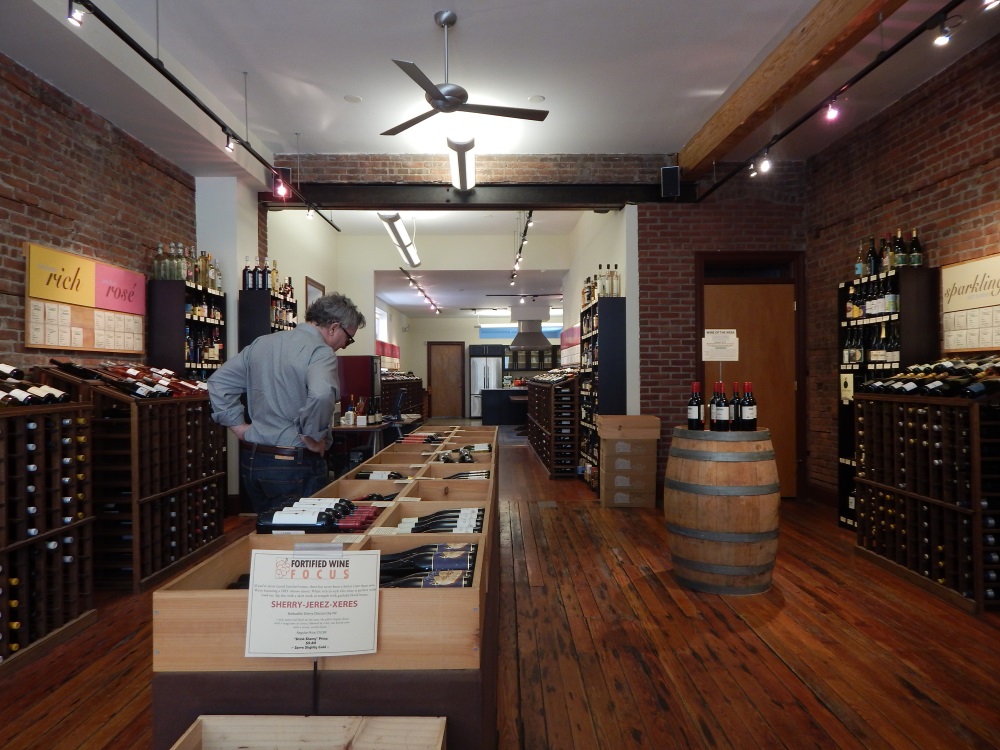 I am one very lucky guy
to have many great wine stores so nearby. I have been anxious to check out Artisan Wine Shop in Beacon. Wanting to see what they have to offer but reluctant because some small wine shops are just too specialized for me. I was so happy to find a store that is very approachable, offering many interesting selections, which are well presented, and at reasonable price points.
Being CIA graduates, that's Culinary Institute of America, not the other CIA, owners, Mei Ying and Tim Buzinski bring a unique angle to their provisioning of fine libations, which is how well they go with food. Which is to my mind essential.
That's my friend Jonathan, a wine geek like me, he found a lot he liked too.
Mei and Tim lean toward offering interesting wines from generally small production wineries, and cideries, and distillers.  Drinks that work well with food. Like me they are all about getting you to try new things.
For example if you like a nice round Chardonnay, Mei is likely to suggest to try a Chenin Blanc. You should take her advice because you will love it.
To that end, I love the way they present their wines in profile categories of "Crisp", "Round", "Rich", etc. It is great way to start a wine conversation, engage you to understand your particular taste preferences.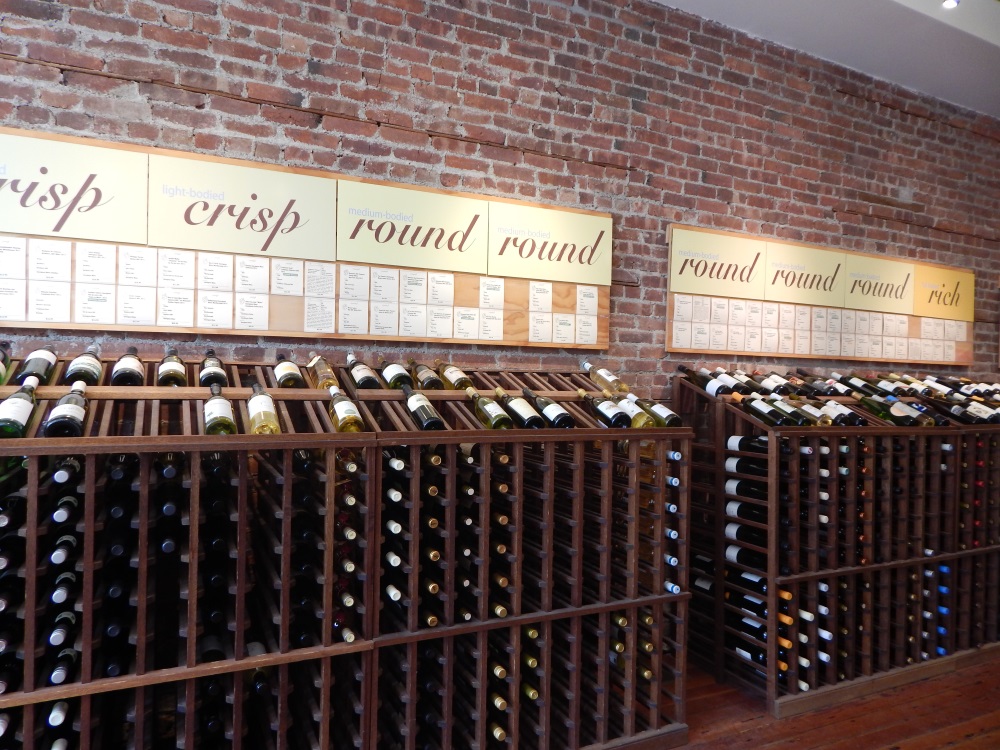 Say you like crisp wines, or have a dinner planned calling for a crisp wine. The next question can go in a number for directions, do you like mineraly, fruity, herbal, etc. But starting with crisp, begins to define the inquiry toward finding a perfect wine for you.
We bought two wines, two Syrahs, a Syrah and a Shiraz. This one Diana picked out because she loved the label. Alange Syrah from Bodegas Viñas de Alange, a winery founded by Alvear and the Losada Serra family in 1999, the lovely Ribera del Guadiana region in Spain. They had the goal of producing superior barrel aged wines with an emphasis on quality over quantity. Their timing was good as this was right around the time that quality Spanish wines were beginning to gain attention on the world stage.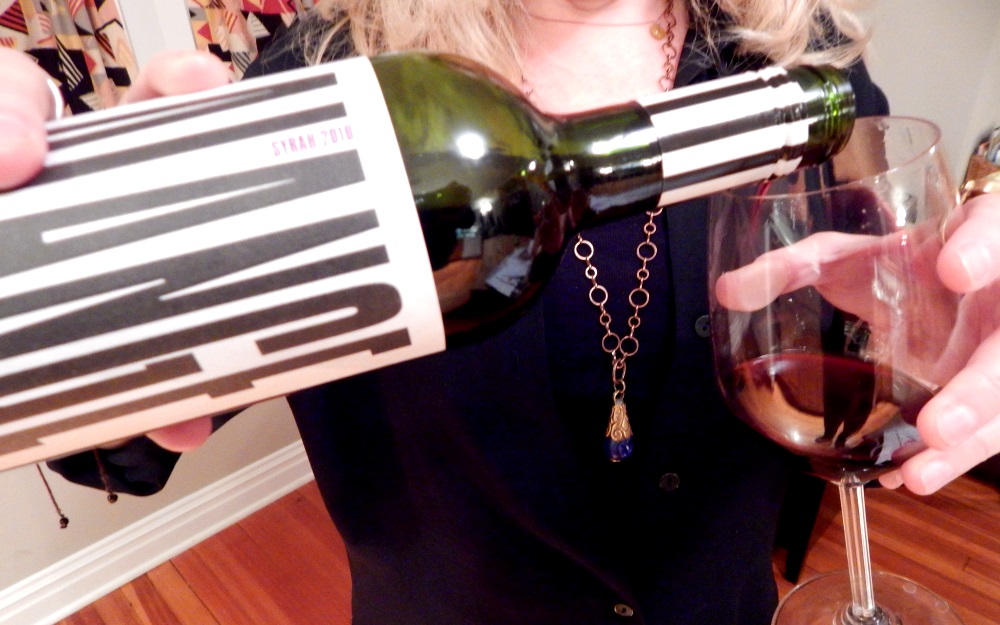 Buying a wine by the label design can be a dangerous proposition. But in a shop like Artisan you are pretty safe.  It was one of Mei and Tim's specials of the week.
For $10 bucks, this flavorful and well balanced wine was a real steal. It drank way to easy and before we knew it it was gone. Paired nicely with a homemade Italian dinner of  orecchiette, with sage, mushrooms and sausage, on a bed of arugula.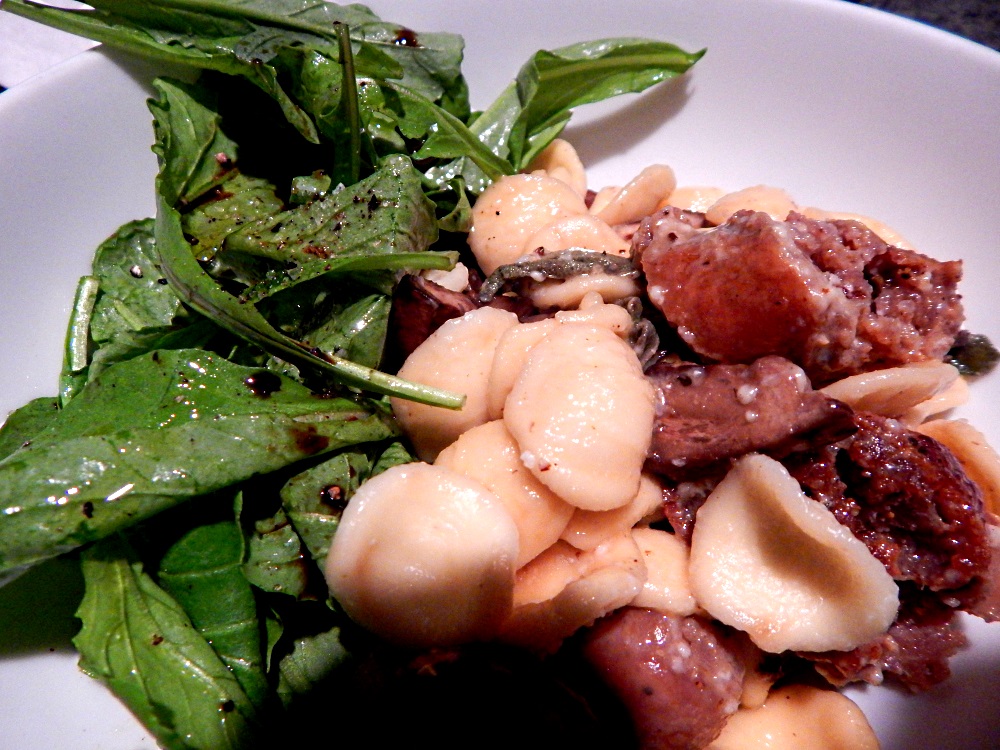 The other special wine of the week I grabbed was a McLaren Vale Shiraz, same grape, different name for down-under. Paxton Shiraz McLaren Vale, which Mei said was really nice, well balanced, not quite the fruit bomb that some McLaren Vale wines can be. Can't wait to try it. But, we are on a cleansing fast this week so no booze until the weekend. 🙁
There were about a dozen other bottles I wanted to buy, including a few in the amaro and the spirits sections. But, we were on our way to the Beacon Farmers' Market and then Dia:Beacon. We were traveling light. I want to get back though probably on a Saturday when Mei and Tim do food and wine pairings.  Check Out Coming Events Here actually, that was not up to date last time I looked. Facebook might be better
180 Main Street, Beacon NY –  845.440.6923
Places to Go, Things to Do • Dining Shopping
Beer Wine Cocktails • About the Authors