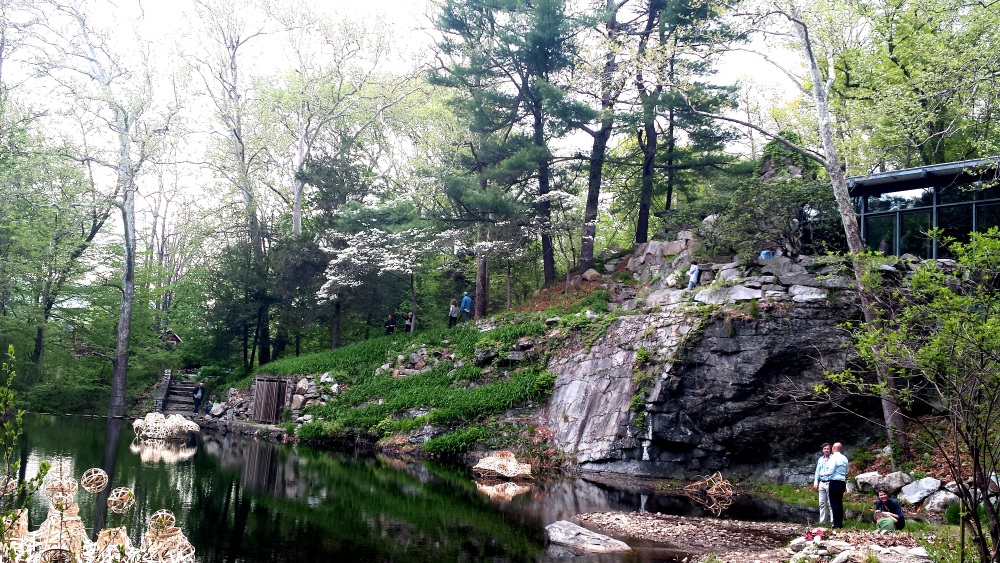 Today we all know how important great design is to our everyday life. Not so much the case some generations ago.  But visionaries like Russel Wright did know. A forerunner of what many of us take almost completely for granted, as we handle our beautiful iPhone.  Wright believed that "good design was for everyone."  He embraced and forwarded the empirical axiom that art is not just a part of life. Art is life!
There are few places where this consciousness is more discernible than here at Russel Wright's former home and design center, Montioga. A place of striking yet gracious beauty, a place where art, nature, and human habitation reside in utter invigorating harmony.
Today exciting initiatives to share the magnificence of this place are underway, one such program is the  2015 Artists in Residency Exhibition, " a celebration of Russel Wright's legacy of creative experimentation and celebration of place.We were very fortunate to be invited to the opening celebration for this year's AIR program. It is an exciting installation by  world renowned artist Stephen Talasnik whose work has appeared in the Metropolitan Museum of Art,  NY;  The Pompidou in Paris; British Museum, London; The Albertina, Vienna; and The State Museum of  Berlin.
His work here is called Sanctuary,  a temporary installation of aquatic architecture.  It is a  fascinating construct of woven reed in a complex artistic and aquatic structural design masterfully placed on the surface of the Manitoga Quarry Pool.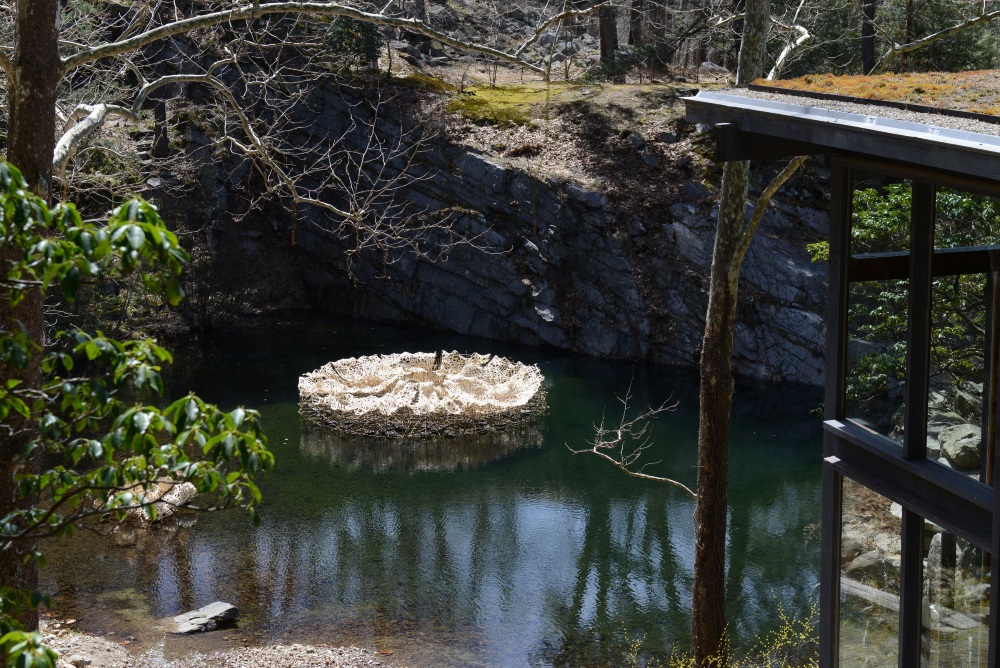 Photograph by Don Pollard
We enjoyed the words of Allison Cross, Manitoga's Executive Director who described the inspired efforts to bring this work that is deeply motivated by Wright's early vision. She said Talasnik's work is, "Similar to Wright's intervention at Manitoga…. it occupies the intersection of art, innovation, science and nature and enters into a profound dialogue with place. "  You really do need to see this in person to fully grasp the import.
Allison also spoke of  the many future programs to further the realization of the Manitoga Mission, which is to "ensure that the extraordinary spirit of place of Manitoga and the timeless design vision that inspired its creation are preserved and shared."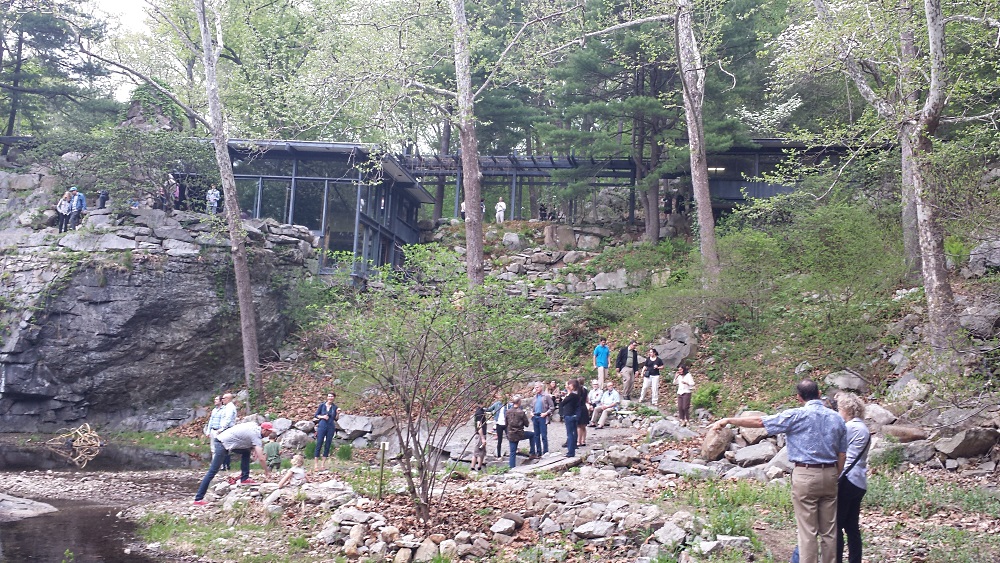 Guest gathered and mingled and explored the grounds. Stephen also spoke and his words were reflective of the influence that this beautiful place had on him. You see, in the 50-60's Russel Wright transformed what was  a blighted abandoned quarry landscape into a place of astounding beauty and design he called it Manitoga. Talasnik believes "the responsibility of the artist is to take nature and drag it through their own personal experience with the objective of creating a new nature – an organic, near seamless synthesis of nature and personal knowledge."
He expand this and said this work "is organized, engineered, and built for the moment. It is here for a short time, a temporary aesthetic, much like the seasons." and that "the spirit of Wright and of the natural environment is far more meaningful when we cherish the opportunity to examine the moment."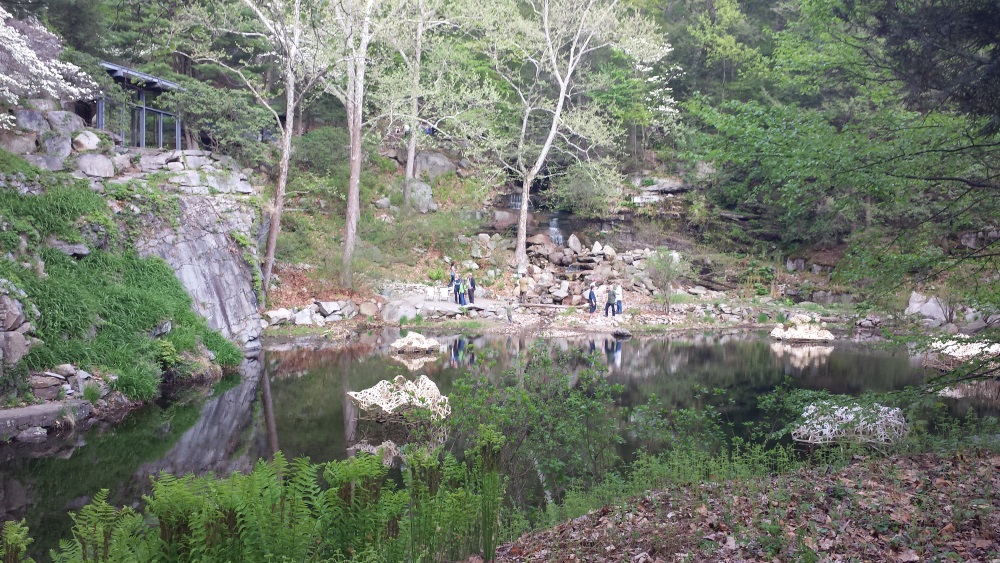 We were quite moved by the entire experience. Again you must see it live to fully enjoy and you can. On view from May 1 until November 9, 2015 More Visiting Info
Artist led tours with Stephen Talasnik can be scheduled for May 30 and October 17 at 1:30pm; Reservations required at BrownPaperTickets.
It is not to be missed.
584 NY-9D, Garrison, NY 10524
(845) 424-3812
Places to Go, Things to Do • Dining Shopping
Beer Wine Cocktails • About the Authors