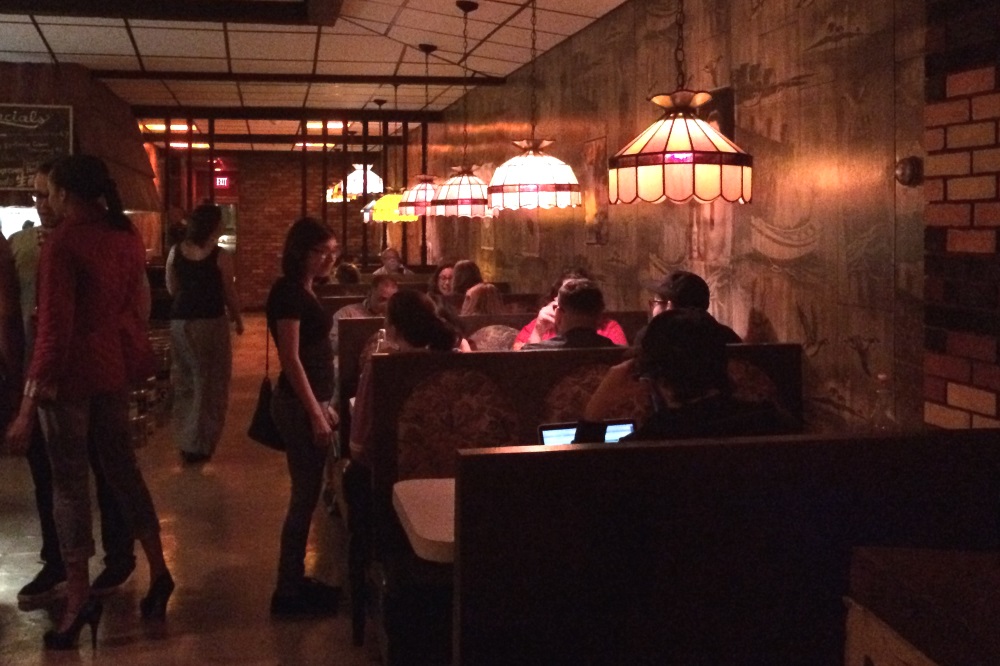 After getting a taste of  Yukie Schmitz's fine home-style Japanese cuisine at a Manitoga event this past Saturday, we could not wait to get to the restaurant her husband Tom and she opened recently in the old Quinn's Luncheonette in Beacon — for more!
Last night they were also hosting a Motown DJ which was great incentive too, we loved both. Or should I say everything! Fabulous Japanese small plates and noodle dishes, great booze, and sweet music. All in a place with classic atmosphere and great staff.
This is by far the best Asian cuisine we have found on the east side of the River in the Valley and will be back for more.
We feasted on the dumplings, "Tantric" pickles, an interestingly unique salmon sushi roll and two fabulous noodle dishes.  Reading Yelp reviews it seems that the transition from the old Quinn's to the new had some rough spots but they certainly have hit their stride now.   The staff is great, although a little short handed for the lively crowd that filled the place on a Thursday night.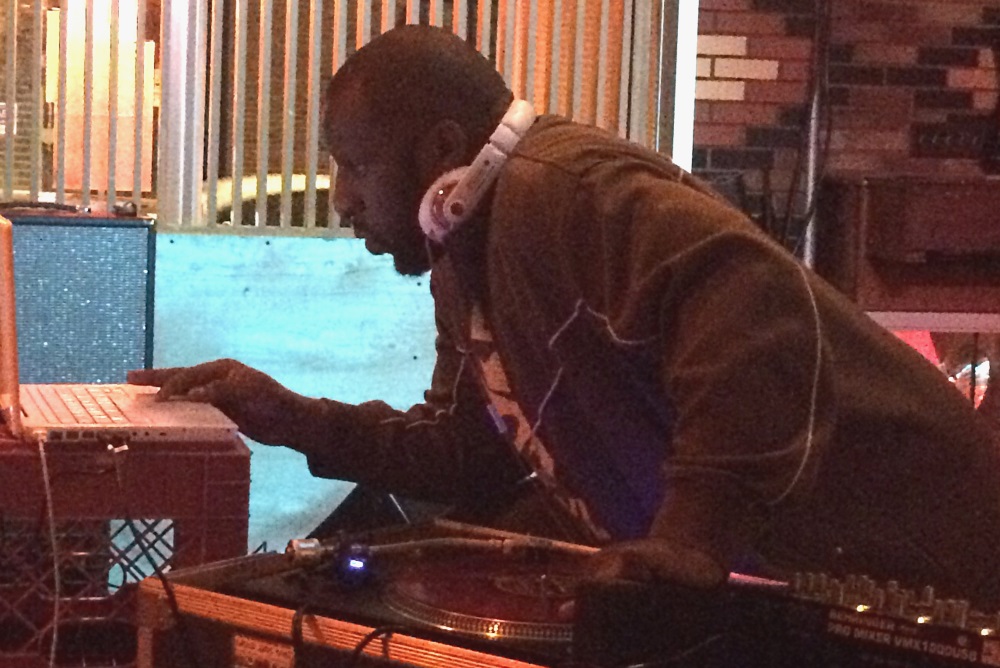 Like Dogwood, the first bar that Williamsburg pioneer Tom Schmitz helped open in Beacon back in 2012, music is a big thing here with different genres throughout the week. We were delighted with the deep Motown collection spun by the talented DJ Wisdom (AKA Winston Bailey). Brought back so many great memories. He gets into a depth of Motown and Soul rarely heard. Really excellent stuff.
The menu is mostly home-style Japanese. There is also a selection of interesting hot dogs, from Barbs Butcher, and some American items thrown in, mac and cheese, a salad.  I recommend going with the Japanese.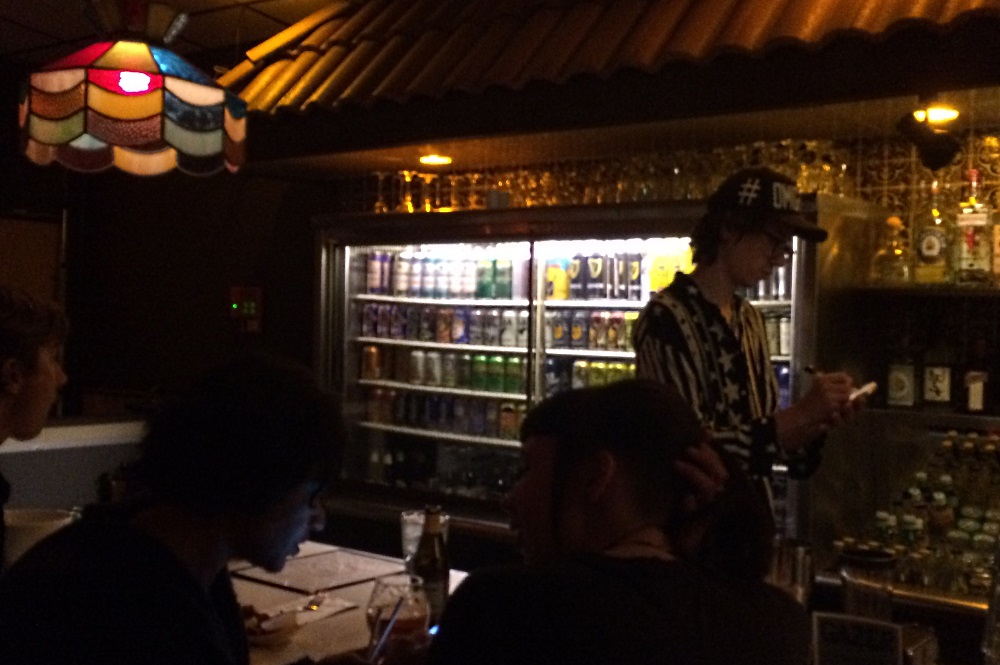 Booze is also a big thing here! Over half the menu is taken up by booze, a few beers on tap, a huge selection of canned beers. You know that cans are the best way, short of a tapped keg, to consume beer. Bottles are just for show. not a great way to keep beer fresh. Cans rule!
As you'd expect a great selection of Sake is offered, some served in these adorable "One-Cup" sake which comes in little glass jars or cans that we plan to start collecting. Apparently all the rage in Japan, sold in stores, bars and vending machines there.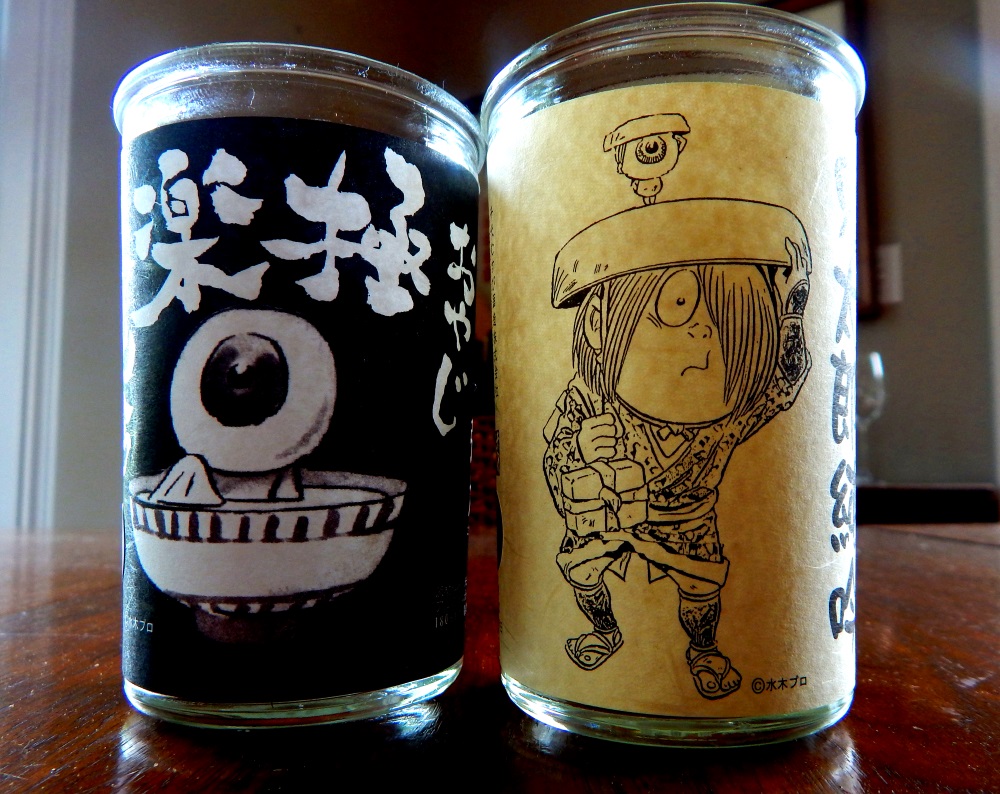 There is hard liquor and I hear cocktail nights are coming with a superb mixologists.  On Wednesday's as I recall. There is some wine on tap.
We met and chatted with Tom and Yukie, great people. We shared how much we loved their place. They said it is a result of a lot of hard work and they are still finding their way with a strong guiding passion toward make Quinn's a great neighborhood place.  I love that.
The room has not changed much from the 70's era luncheonette motif. It was cleaned up thoroughly and some Japan poster art added. Very comfortable and the vibe is cool.
330 Main St  Beacon, New York (845) 202-7447
Places to Go, Things to Do • Dining Shopping
Beer Wine Cocktails • About the Authors