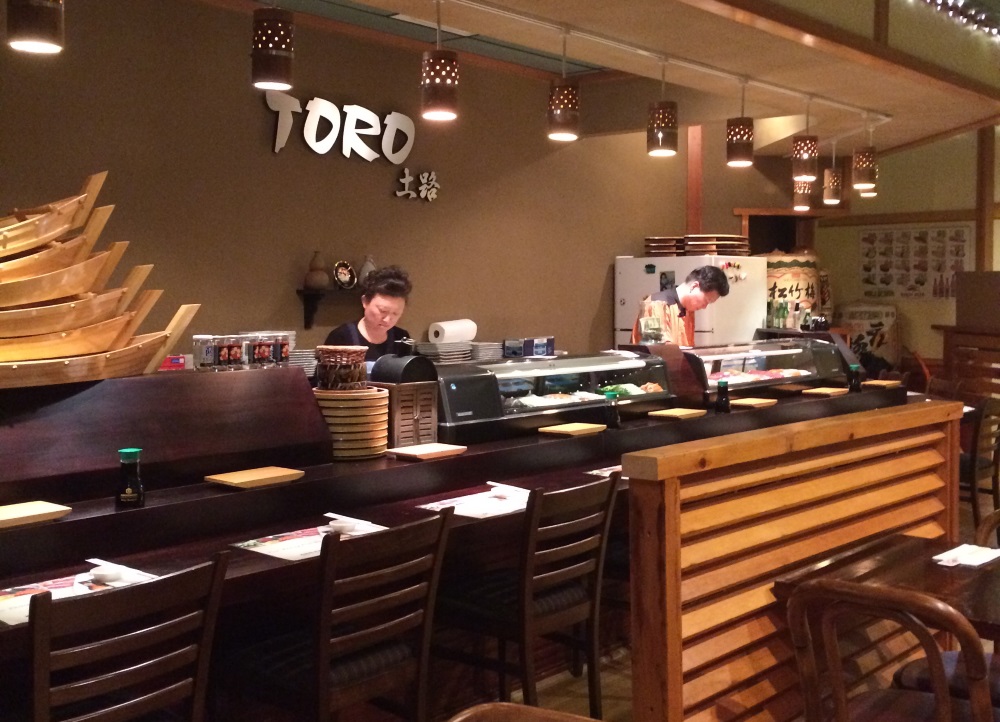 Thursday night dinner at Toro in Fishkill. Friends recommended this place. We enjoyed the Korean more than the Japanese. Great sake list! Will be back for sake and cooked small plates.
We like sharing our restaurant discoveries, hope you like reading them. But I am so done with food pictures! Taking them and posting them. So you won't be seeing them here anymore. I leave that to the pros.
Also we are adopting a simple restaurant rating scale. Three levels. Definitely going back soon, will go back, wont be going back.  Now since we have dozens of places to try the return trip may take awhile, but you get the idea. Toro fell into category two. 
Toro is in a strip center outside of the center of old Fishkill village. Looks like a diner when you first step in. Chef Kevin Park family opened Toro about seven years ago and have enjoyed a good level of success. A lot of people love this place.
The front as you see contains the sushi bar and a long column of banquettes. The menu is a catalog of vivid pictures and descriptions, dozens of options. I guess the photos are good for newbies. I find them unappealing.  We made some selections and savored our sake.  Menu
On the Japanese side we had a miso soup and two rolls. The soup was excellent, rich a full of flavor.  The rolls were good, great by many standards I imagine, but we have been spoiled by extraordinary. It is a curse.
Before we finished our sushi our Korean entree arrived and we sent it back. I'd expect better timing from a restaurant established this long. The wait under the heat lamps may have taken away from the Chap Che we ordered, nevertheless it was very enjoyable.  This is Korean sweet potato dish with clear noodles, vegetables, we added chicken,  served with kimchi and  ban-chan (side dishes of pickled vegetables).
We will be back  for the cooked food, Korean bbq, tempura, noodles dishes and of course a bibimbab.
1004 Main St. Fishkill, NY
845.897.9691
Places to Go, Things to Do • Dining Shopping
Beer Wine Cocktails • About the Authors