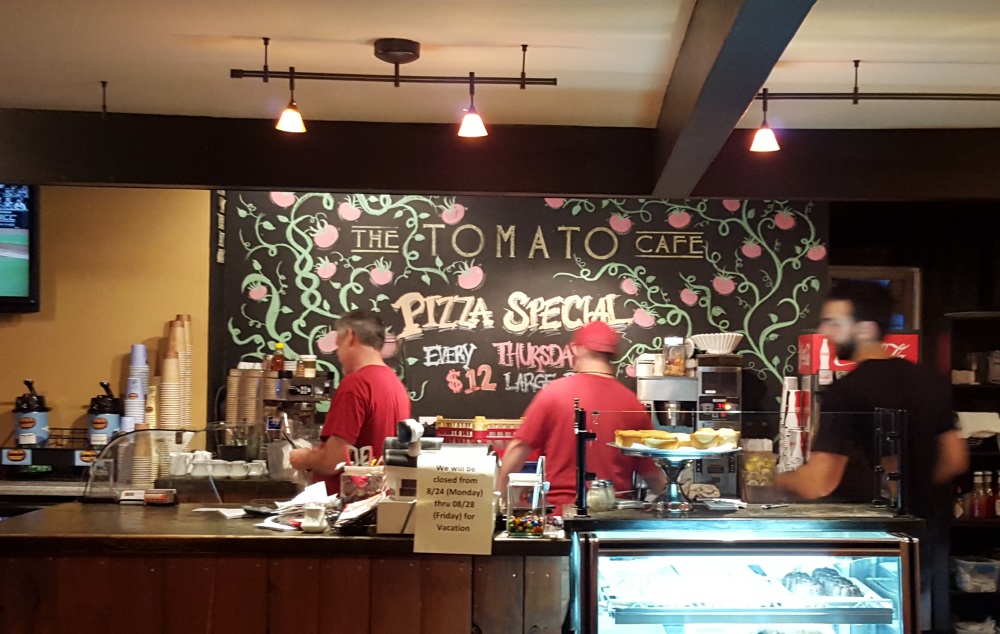 Diana's parents were up from Florida for a week visiting our beautiful Hudson Valley.  One item that is on the itinerary for every trip up north is pizza, good New York style pizza, which is tough to find down south.
We suggested "The Tomato Cafe" in Fishkill, a place I've wanted to try since we moved here and so we went. When we arrived around 6:00 the restaurant was mobbed. Thursday is "Pizza Special" night.
The menu here offers a wide array of Italian American dishes and daily specials. We enjoyed two salads and three pizzas, some of which came home. I love the playful yet classy design of this restaurant, the staff is super friendly and effective.  The food was good.
Our favorite dish was the Pizza Con Carne, their traditional pie loaded with pepperoni, sausage, meatballs and bacon.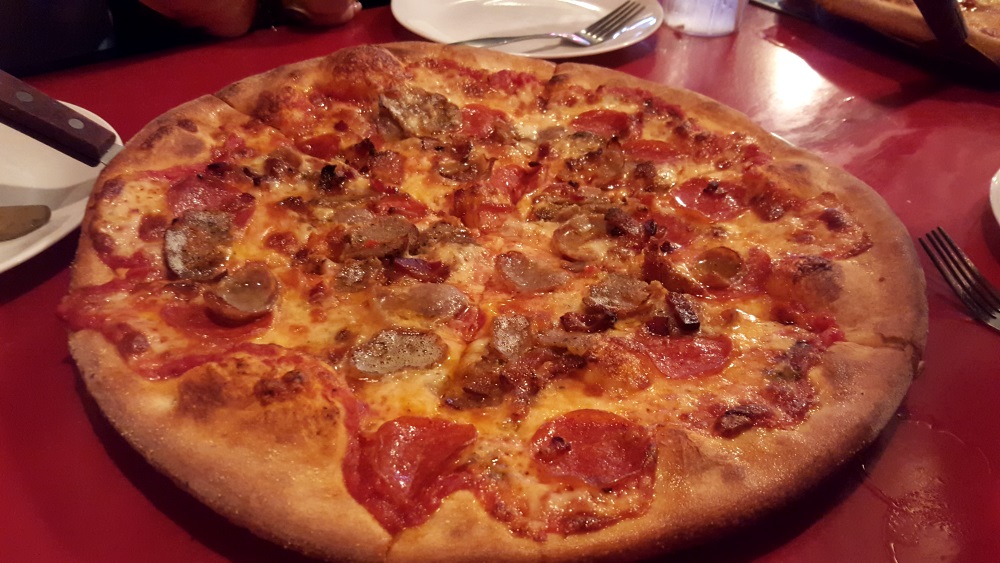 We started with a big Caesar Salad, a typical rendition, with pre made dressing, and a Tomato Cafe original, a grilled eggplant salad that was a big bowl of crisp mixed greens topped with grilled eggplant tossed with some pine nuts, cherry tomatoes, house made croutons and  olive oil and lemon juice, finished with tasty crumbled ricotta salata. Very good but some of the eggplant was not grilled well enough for me. These two salads were plenty to share among three adults and two hungry college-age boys.
The pizza here is made with good quality ingredients, it makes a difference, it far excels what you find from the national chains. I am partial to true Napolitano pizza cooked with a wood fire in one of those striking dome shaped ovens they use. This was classic NY and my in-laws and the boys loved it.
While the pizzas we had were enjoyable, the pesto pizza to my taste was good not great, the third pizza, BBQ chicken, we thought had too little chicken and a sauce that had too little spicy flavor. I'll qualify all that by saying we are very demanding diners. Based on other reviews I've seen I'd say most everyone loves this place. Besides lunch and dinner they seem to have a very popular brunch.
1123 Main St, Fishkill, NY
845.896.7779
Places to Go, Things to Do • Dining Shopping
Beer Wine Cocktails • About the Authors