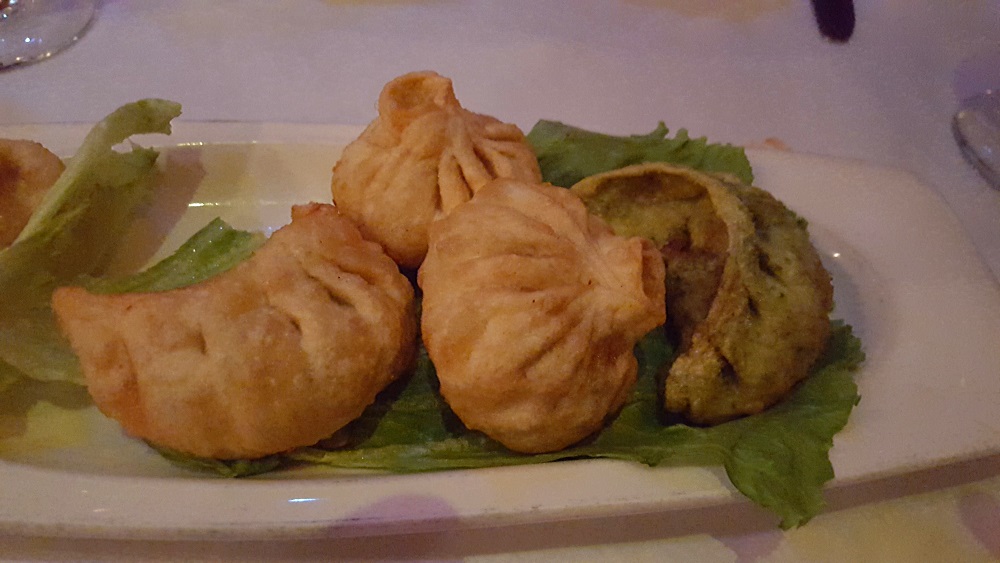 Diana spent three weeks in Nepal with work for a Walls that Unite project, more on that in a moment.  She fell in love with the Nepalese people and their cuisine. You don't find dining as exquisite as this everywhere in Nepal, yet it did bring back such fond memories for her.
One of her favorite dishes were Momos, pictured above. They are a type of dumpling from neighboring Tibet, thought to be from the people of the Newari civilization who've dwelled in the Kathmandu valley for may centuries.
They say Momos are the most popular lunch food in Nepal. They were original made with yak meat and served with a variety of sauces, but as traveling merchants brought them to other places the style and fillings began to follow the preferences and traditions of cultures.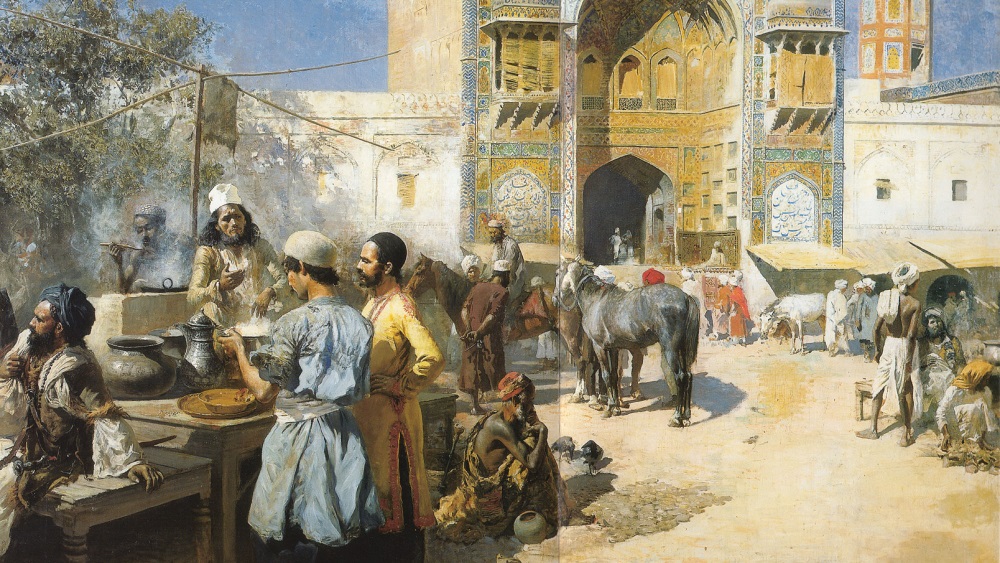 An Open Air Restaurant, Lahore – Edwin Lord Weeks
Today  they are made with paneer (Indian cheese), mutton, chicken, pork, beef or an assortment of vegetables. At Jewel of the Himalaya you can find many of these as well as Momos made with shrimp and crab. They are quite beautiful to look at and delicious to eat.
The quiet well mannered dining room is comfortable and welcoming. The staff helpful and attentive although we encountered some language adventures.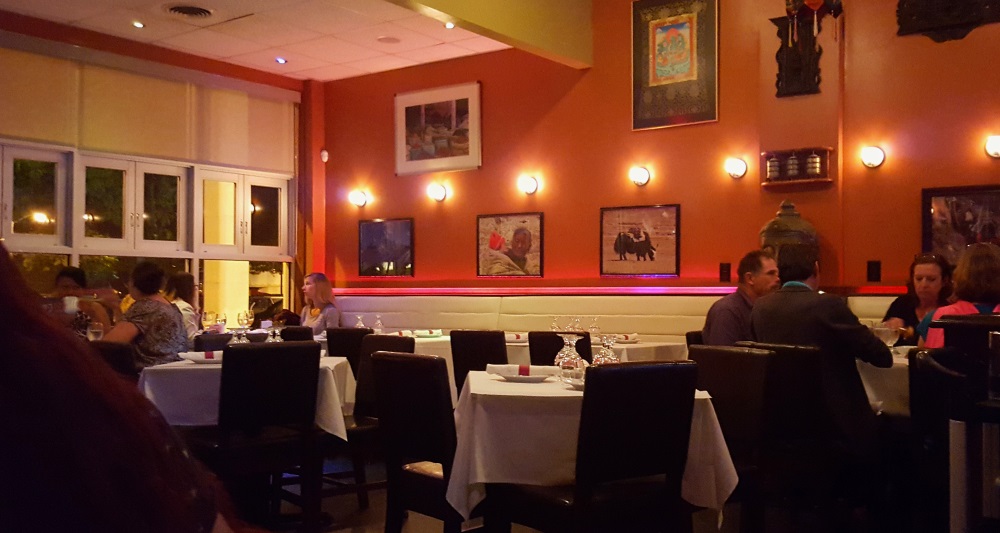 That was until we met the interesting, erudite, and well spoken Gyaljen Nuru Sherpa who owns and manages this restaurant with his family who are all from Nepal. We had a great time discussing Nepal, Diana's visit there, Gyaljen growing up there, and the plight and progress of not to be forgotten victims of recent earthquakes. We talked religion, philosophy and politics, rarely polite dinner topics, but a joy with our host's Buddhist views.
After our Momos we had the amazing, Himalayan Salad, mix Green lettuce, tomato, cucumber marinated in ginger dressing.  I imagine your thinking how can a simple salad raise in stature to deserve such superlative descriptions. Well one it is the fresh crisp vegetables, but what is extraordinary is the house made dressing that sparkles with delightful South Asian flavors.
We loved the chicken tandoori, which is part of Jewel's Indian inspired menu. Nepal was once part of India.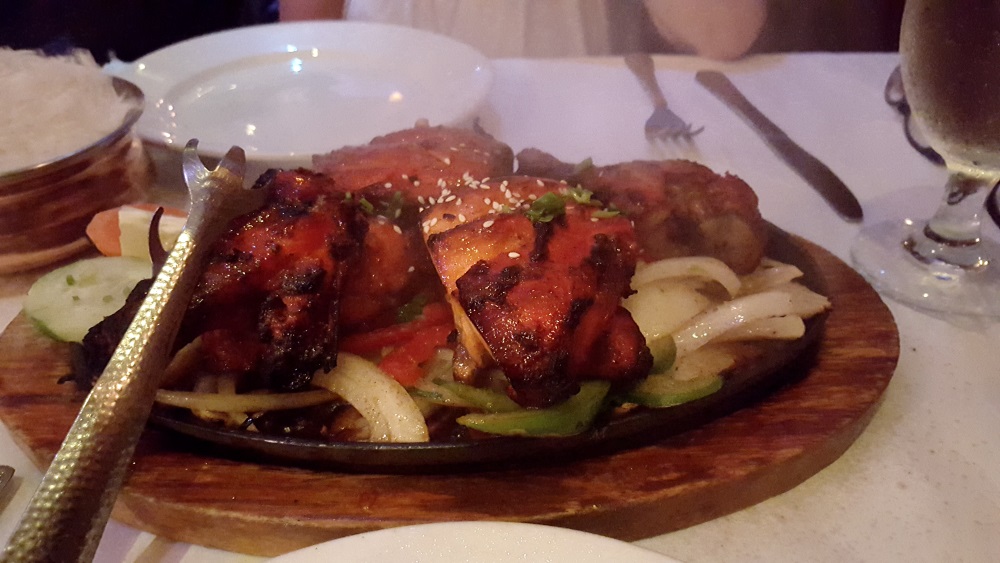 We also loved this savory vegetarian Korma. A dish from Central Asia of vegetables braised in a spiced sauce made with yogurt, cream, nut or seed paste that has found its way into Indian cuisine.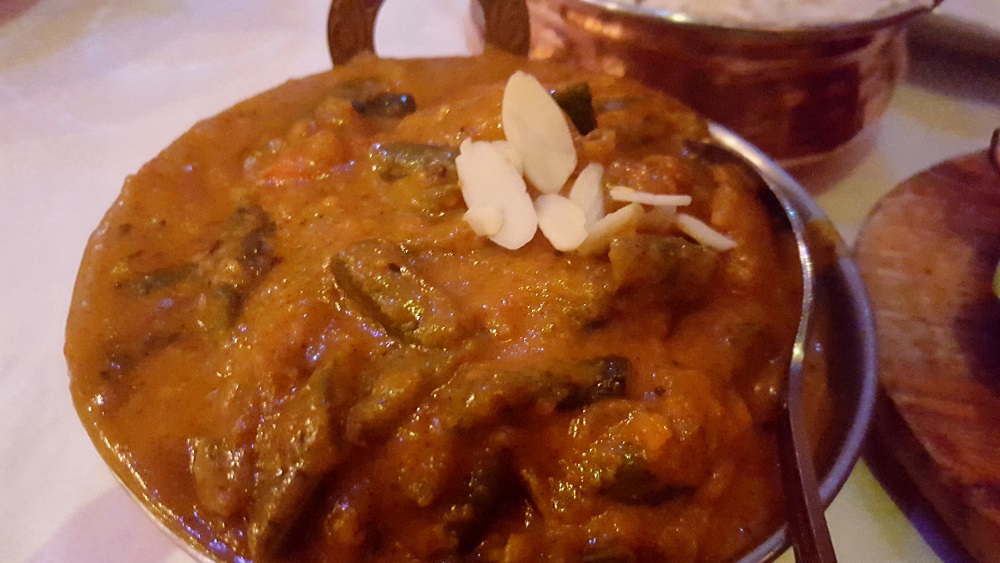 And the longest rice I have ever seen.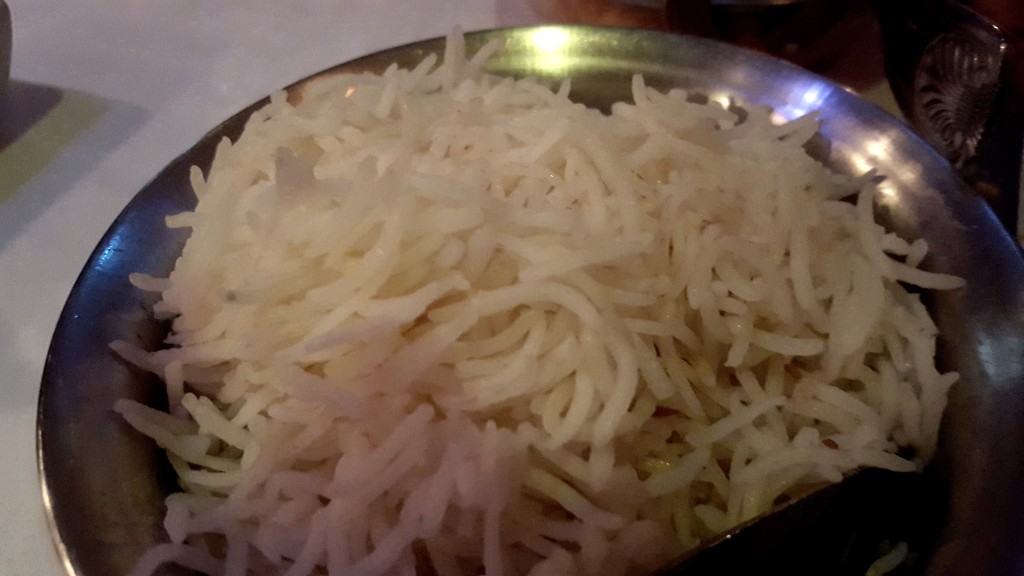 The wine and beer list is adequate. Water is probably a better accompaniment anyway.
So let me tell you about Walls That Unite and their work in Nepal.
"Walls That Unite" is a global service learning initiative that organizes and promotes the creation of collaborative art tile walls which educate, connect international communities, raise funds, and enhance the lives of all involved.
ArtWare is already involved with projects in the United States, Nepal, Africa, Costa Rica, Honduras and Guatemala and welcomes the opportunity to work with you…  read More  or watch Video
Places to Go, Things to Do • Dining Shopping
Beer Wine Cocktails • About the Authors