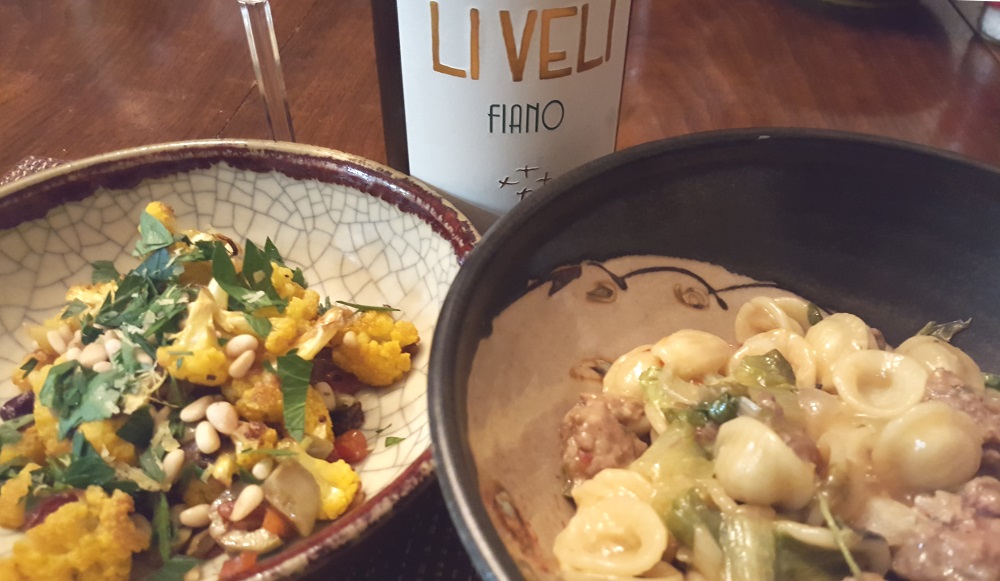 A favorite wine we found at the engaging Palate Wine and Spirits shop in Newburg, NY inspired this dinner. A Fiano from Puglia (Apulia) one of our very favorite parts of Italy. Puglia is the "heel of the boot" of Italy, the lower south east peninsula wrapped by the Adriatic and Ionian Seas.
Wine made with the Fiano grape is very popular, In this part of Italy,  a bright and flavorful wine. Yet the grape can be hard to grow and has low yields. It is rarely farmed outside of Italy. We fell in love with it on a wine pilgrimage to Italy in the fall of 2012. It can be hard to come by in the US so we were delighted to find this wine in here at wine store in the Hudson Valley.
This one is by Masseria Li Veli a winery founded in 199 by the Falvo family who also owned the fine Avignonesi estate in Tuscany.
The fresh ingredients for the dinner we made came mostly from Dan Madura Farms a regular vendor at Cold Spring Farmers Market who had gorgeous yellow cauliflower, onions and abundant fresh parsley this week.  With this produce we made a dish from Tal Ronnen's fabulous vegan Crossroads Restaurant recipe book, "Cauliflower With Olives and Sun-dried Tomatoes." Other ingredients came from our own Cold Spring Foodtown and Adams Market in Wappinger.
For the pasta dish I  created my own recipe for Orchietta, the classic Purglian pasta.  We bought some exceptional Italian sausage, that Chris of Marbled Meat Shop has just made. Sauteed it with escarole and onions, EVO, Kosher salt, and hot red pepper flakes, some white wine, veal stock and as a last step a tablespoon of arrowroot to thicken the sauce.
These dishes with a nice baguette from Marbled and fresh herbs from our own garden as well as freshly ground cheese, and of course accompanied by a perfect wine, were an inestimable culinary luxury.
Crossroads: Extraordinary Recipes from the Restaurant That Is Reinventing Vegan Cuisine
The Cauliflower Recipe  by Kris Carr.
Places to Go, Things to Do • Dining Shopping
Beer Wine Cocktails • About the Authors