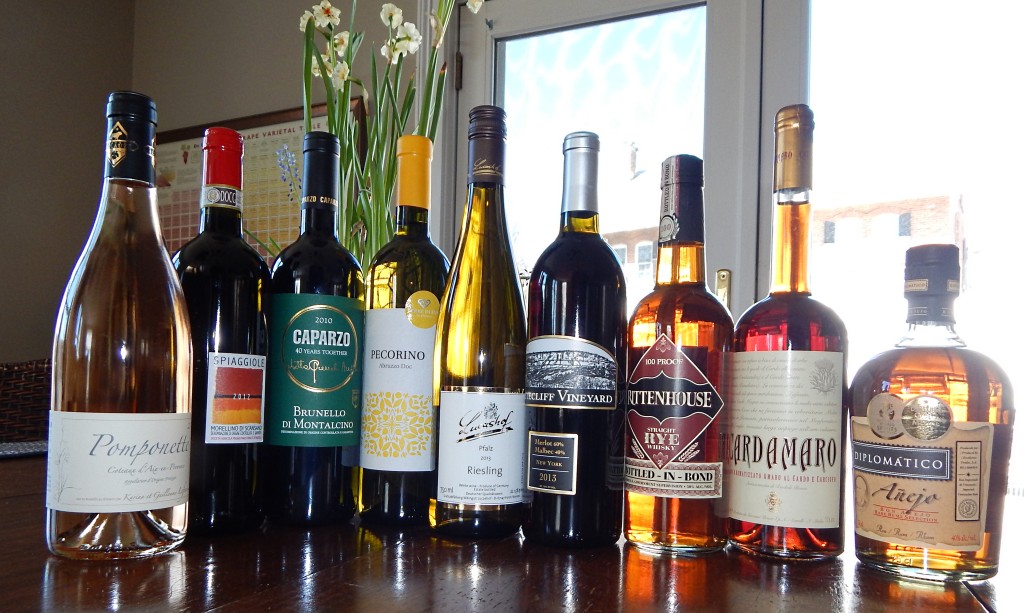 Mid-Valley Wine and Liquors, Newburgh, Welcomes You Too
You surely know by now that I am very serious wine habitué and cocktail devotee.  And ever since I was so dramatically severed from my many tried and true sources, developed over decades, in New Jersey, it has been a riveted and phrenetic search to find new. Two things have complicated my quest, the frost-bound winter, and the potent Hudson Valley command to be "Locally Centric."
Today my unrelenting hunt was significantly rewarded upon my passing through the threshold of perhaps one of Hudson Valley finest purveyors of thoughtfully selected wine and spirits. With a special concentration, Mid-Valley Store Manager, Lindy Steele, revealed in our conversation, "we make a great effort to offer New York state products, it is a great market for us." 
How happy I was to roll my cart away from today's Special Easter Tasting!!!! with several bottles I adored, only to have the opportunity a few feet away, to select from an very ample selection of New York wines, from our own Hudson Valley, the Finger Lakes, and the North Fork.  It seemed too good to be true.
But then I headed over to the spirits section to find many of our great New York distillers well represented. And to top it off, my favorite  beverages of all,  Amaro, were present with the best selection I have seen since my last trip to the renowned Astor Wine and Spirits in New York City.
Well my cart was bulging, credit card about to be impacted, and I am a happy man. I took pictures, but they came out blurry. Just to much excitement.
Mid-Valley Wine & Liquor
39 N Plank Rd Suite 1
Newburgh, New York
(845) 562-1070
So far we have visited Yanettelli Wines in Cold Spring which we liked, we have found some great bottled there, though their selection is not large.  We've been to Cork New York Wine and Spirits Warehouse in Mohegan Lake, NY, found some good deals on spirits there, but their selection seemed sparse for such a large space. We of course like Viscount in Wappinger Falls  tremendous selection, overwhelming at times.
We are looking forward to checking out Artisan Wines in Beacon, Bin 94 in Salisbury Mills, NY, and Dylan's Wine Cellar Peekskill, NY.
By Peter Conway
Places to Go, Things to Do • Dining Shopping
Beer Wine Cocktails • About the Authors