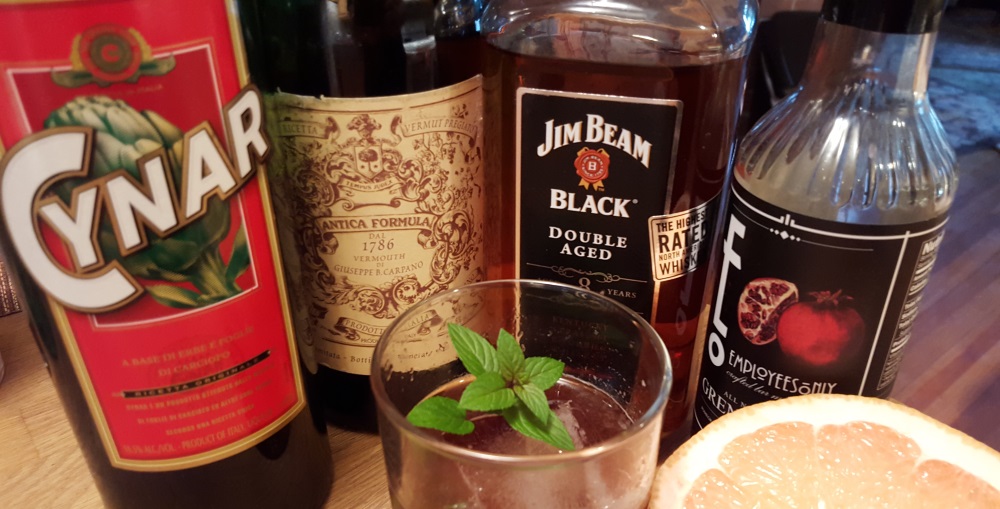 This cocktail was inspired by a recipe I found in Bon Appetite called Backwoods Bourbon Punch by Natalie Chanin & Butch Anthony.
I had all the ingredients but thought adding an amaro would be fun. And it was.
Here is the recipe:
In a shaker stir without ice, multiple by number of drinks you are making.
1  oz fresh squeezed ruby red grapefruit juice
1 oz bourbon, the Jim Beam Black is really good.
1 oz vermouth, we prefer the Carapno Antica formula
3/4 oz  amaro, I would only use Cynar for this one.
1/4 oz  grenadine, Employees Only or Jack Rudy Cocktail Co. Don't use Roses.
Stir well, pour over ice in a big rock glass and stir again, add a mint, lemon slice and or a cherry.
Note: I now often mix my cocktails without ice, A trick my friend and cocktail master Damon Kornhauser taught me. It lets the ingredients meld more fully and produces a cocktail with more depth.  Damon's passion for amaro is mentioned in a recent Food and Wine article. 3 Amaro Cocktails for People Who Don't Drink Amaro
Bon Appetite Backwoods Bourbon Punch
Places to Go, Things to Do • Dining Shopping
Beer Wine Cocktails • About the Authors