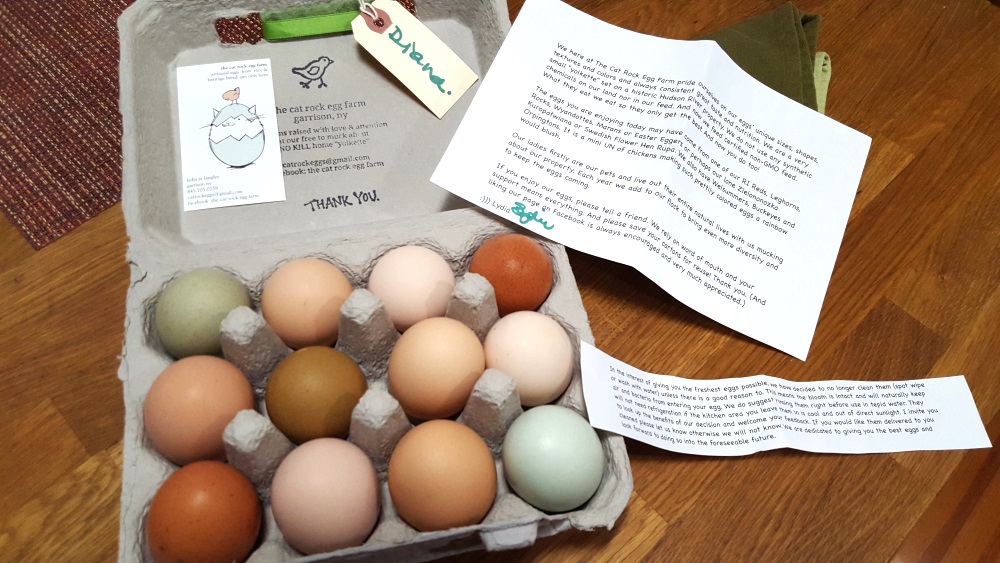 We both, Diana and I, found these eggs on Facebook as friends, mutual and distinct, raved about their delicious flavor and crafty presentation. Said they were the best!
I was skeptical, we have been enjoying a lot of good eggs this year all gently hatched at the wholesome farms about the valley. We've had white eggs, green and brown, but these present a wider rainbow of colors.
They are from Cat Rock Egg Farm in Garrison NY, and as the hand signed letter that comes with your first box of eggs describes, these are from "pet hens raised with love & attention at our free to muck about home "yolkette"   says farmer  Lydia. 
Lydia is a cheerful and earnest women with a lot of love in her heart, she delivered our first batch of eggs to our door in a bright yellow jeep with a big smile in spite of being up half the night caring for her ailing dog.  Oh the farmer's life is not an easy one, yet so rewarding.
We have many plans for these eggs as we start our second crate. But let me share this test, the one true test, of egg quality, two sunny side up, with some delicious local bread toasted.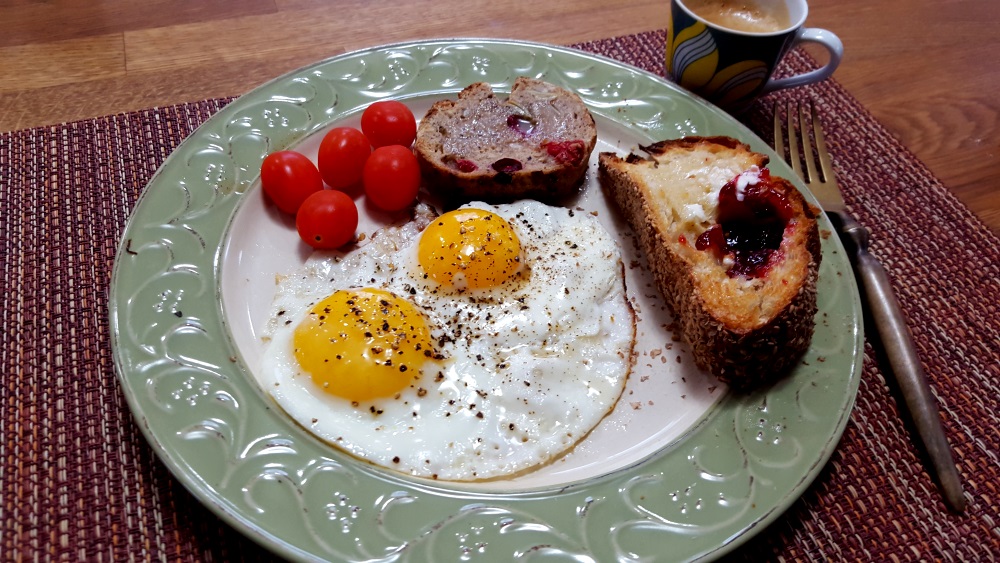 Yes, the first sight of the sunny golden yolks and pure white surrounding them tells these are very likely to be good. Go ahead break those beautiful globes and let the goodness run. The flavor is fabulous, happy hens, happy me!
You can learn more about Lydia, her farm, hens and how to order on her Facebook page here:  The Cat Rock Egg Farm
Wondering about all the colors? Well Lydia tells us that the story is this " RI Reds, Leghorns, Rocks, Wyandottes, Marans or Easter Eggers or perhaps our lone Zielononozka Kuropatwiana or Swedish Flower Hen. We also have Welsummers, Silkies and Orpingtons. It is a mini UN of chickens making such prettily colored eggs a rainbow would blush." That is fun! When can we visit?
One last word, a dish we have been enjoying for a an easy healthy midweek dinner is made up of whatever Autumn vegetables we can find at the farmers market, diced and sauteed, some greens and two Cat Rock eggs, gently poached. We've been enjoying this with carrots, potatoes, butternut squash, but also turnips, rutabaga and  celeriac.  A little olive oil, salt and pepper and some fresh herbs in the pan are all you need. Truly delicious.
Want another tip?  Google "ottolenghi egg recipes" you will be delighted.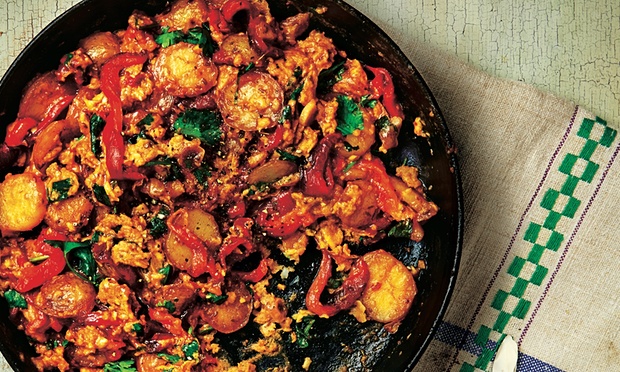 Places to Go, Things to Do • Dining Shopping
Beer Wine Cocktails • About the Authors