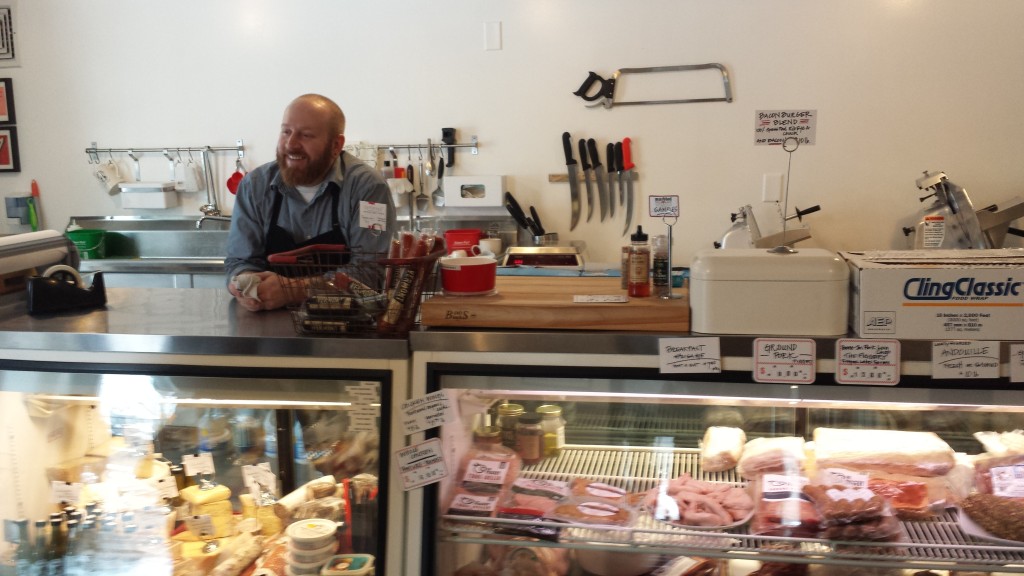 You'll find only the very best, meats, cheeses, condiments and accompaniments at Lisa Hall and Chris Pascarella's new Marbled Meat Shop in Cold Spring.
Conveniently  located next to Vera's on route 9, MMS has quickly become a regular shopping destination for us. We love Lisa and Chris and everything they offer here.  See 4/4/2015 updates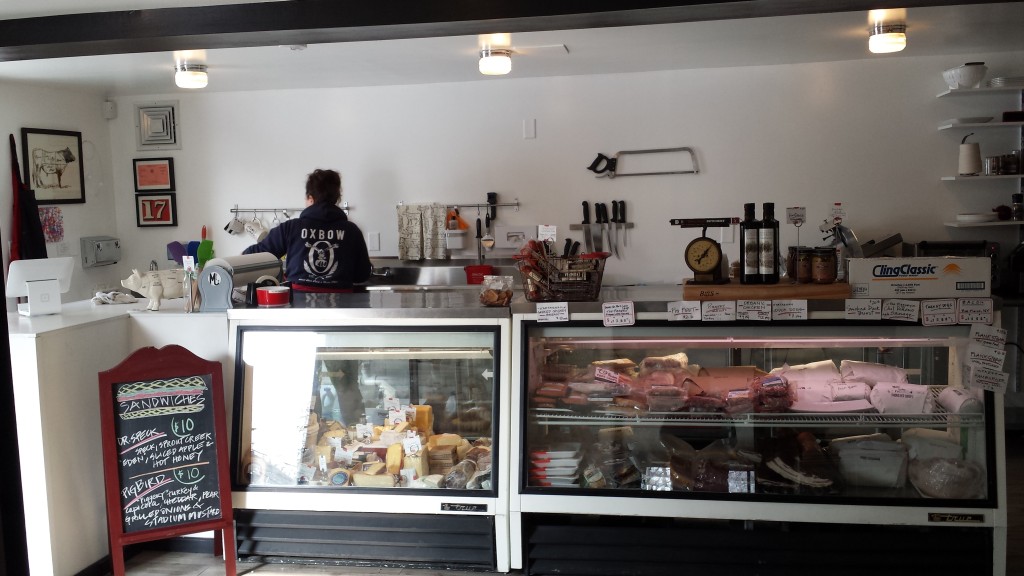 Lisa hard at work on a Sunday morning preparing for the day ahead. She founded Marbled Meat Shop with with her husband Chris Pascarella, out of a real passion for sustainable, mindful food practices and a love for the area. Open Wednesday – Fri: 10a-5:30p and Saturday-Sunday: 10a-6p.
Recipes and Serving Suggestions
When Diana's sister Heidi and husband Perry, two "super foodies" from San Francisco, were visiting us here in Garrison, we made this fantastic carpaccio of grass fed Finger Lakes beef. You have no concerns serving this meticulously raised and butchered meat raw. It was delicious.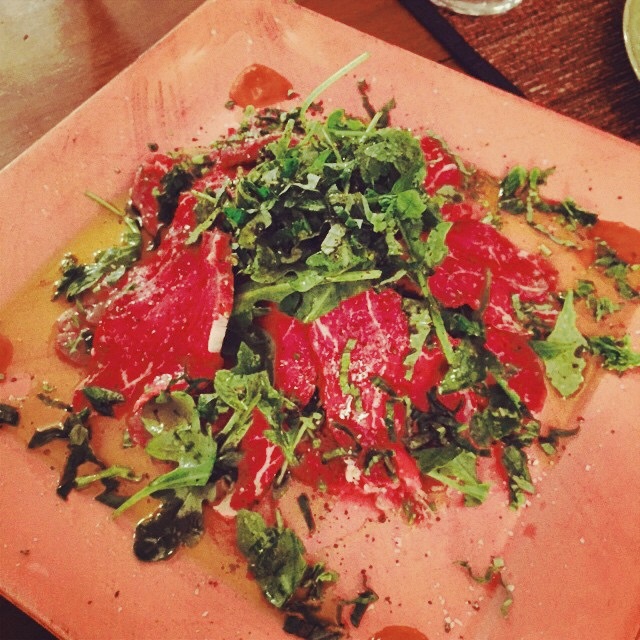 Recipe Easy Beef Carpaccio with Arugula
We had these tasty venison juniper sausages that Chris made in a Jamie Oliver Recipe, just fantastic.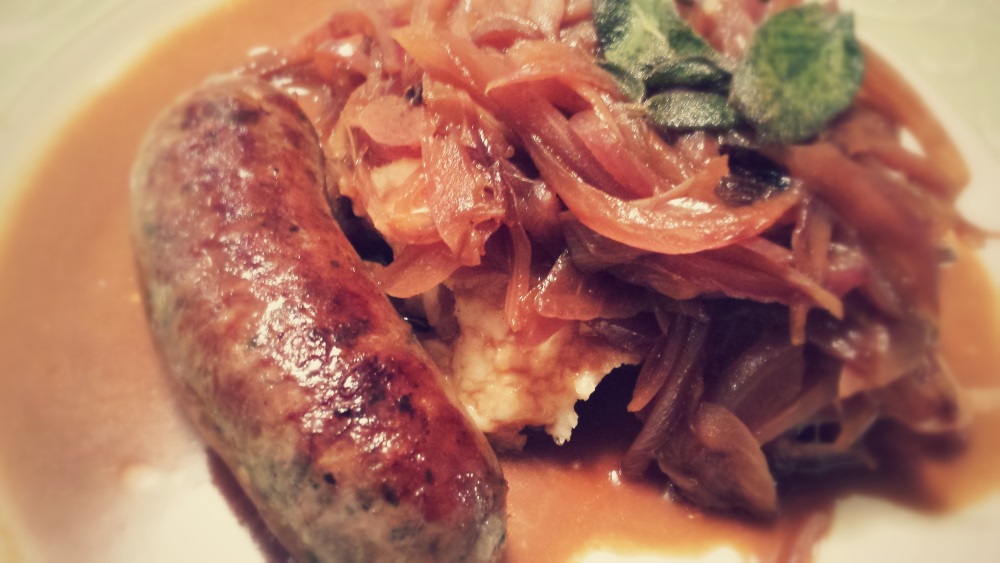 Bubble and Squeak with Sausages and Onion Gravy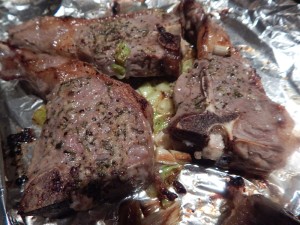 And Lisa's Lamb Loin Chops, from the freezer cabinet, were sublime in this Asian influenced dinner. Broiled with a garlic and rosemary rub, and served with miso glazed turnips and asparagus and mushrooms with tamari.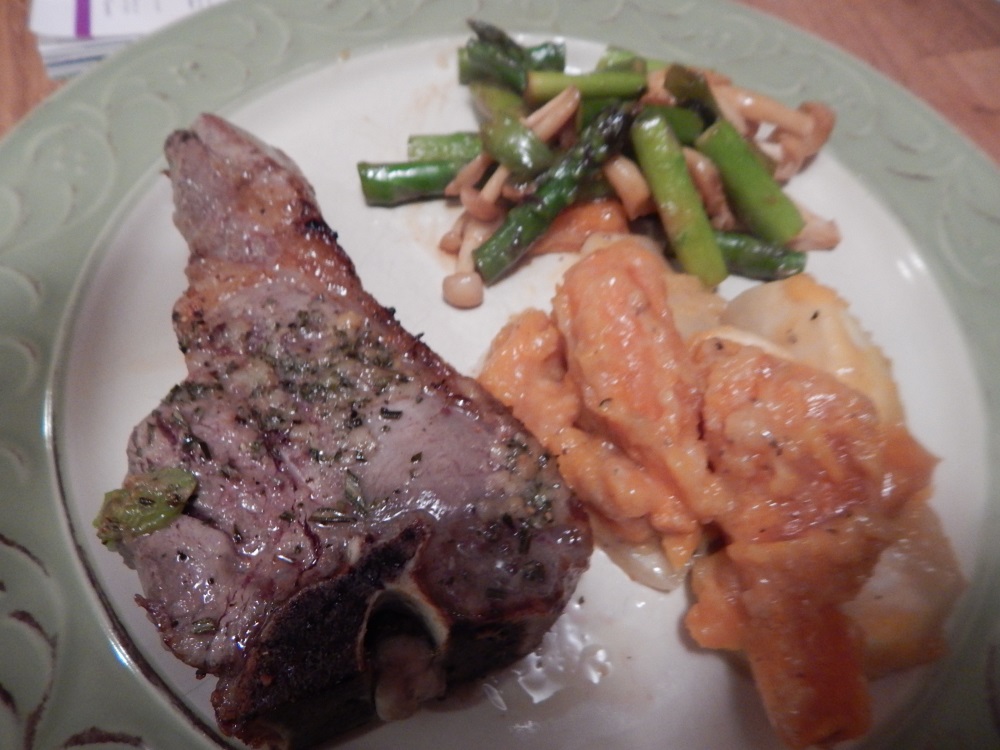 Still working on perfecting my camera skills.
Then there were the "very fresh!" ham steaks we had with daughter Nell and friend Chris, no pictures of that glorious meal but trust me I've never tasted better meat.
We have also devoured their fantastic Pine Plains, NY bacon for breakfast, Lisa's delicious fresh made sandwiches for lunch.  And packaged goods like these "T-Burg Grillers"  sausages, that are of a heritage breed and pastured raised from The Piggery of Ithaca, NY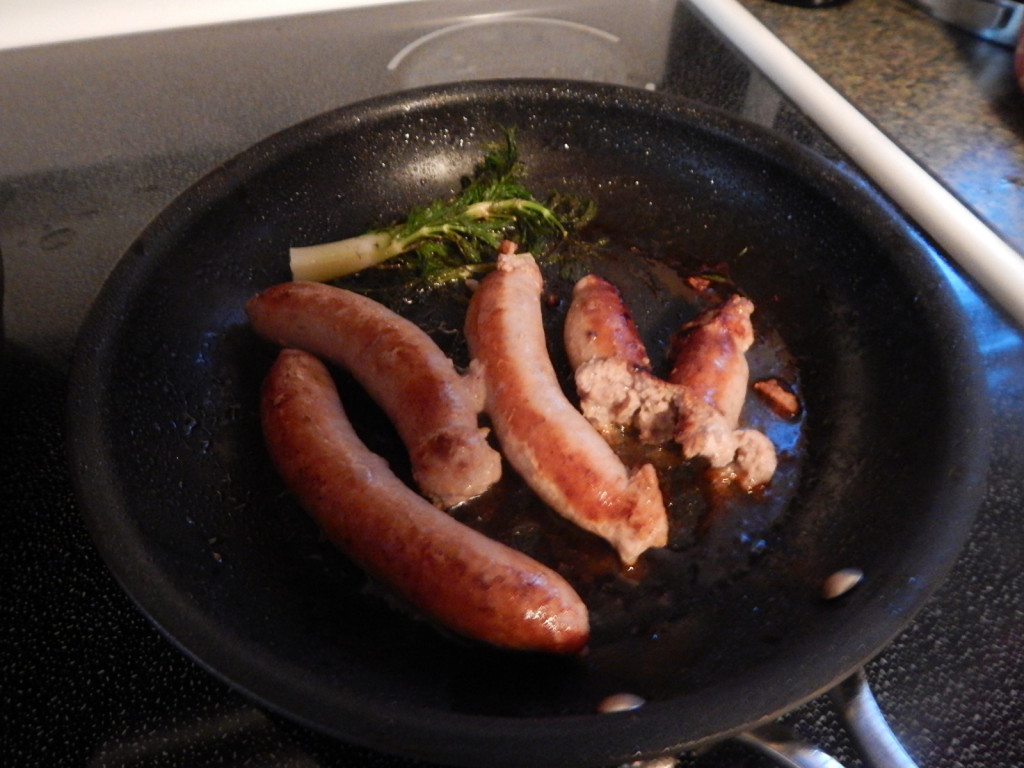 With an Asian beet salad I made with fennel, currants and toasted pine nuts.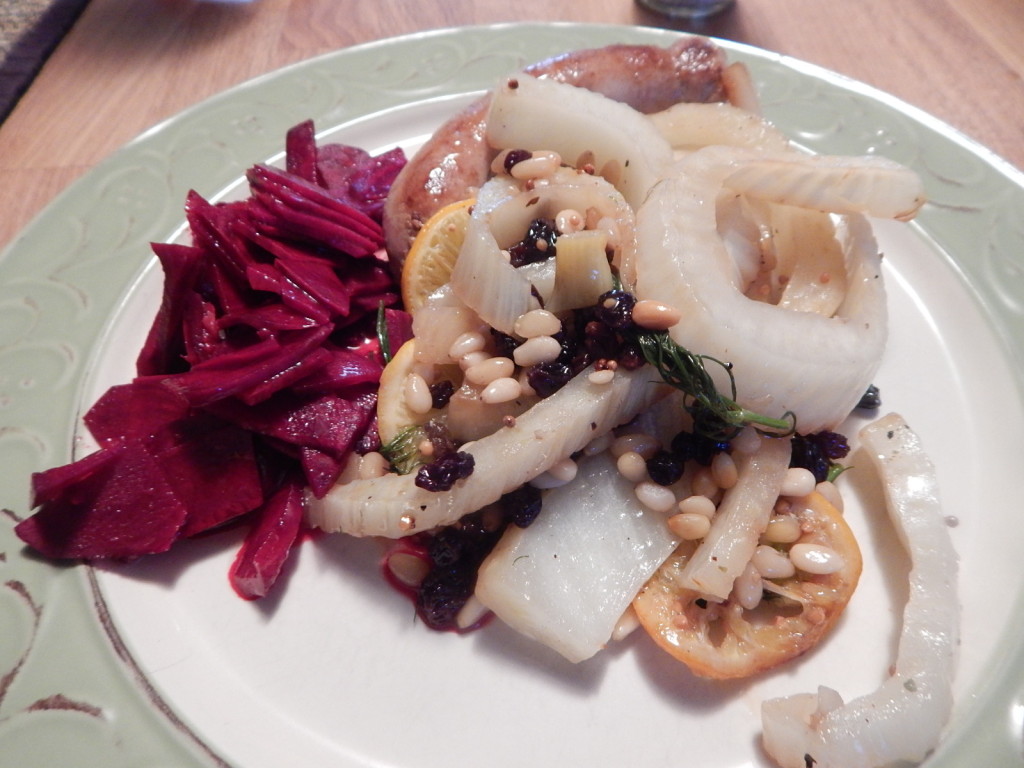 Served with a fabulous Monte Degli Angeli Piemonte Pinot Noir from Yannitelli's Wine Shop in Cold Springs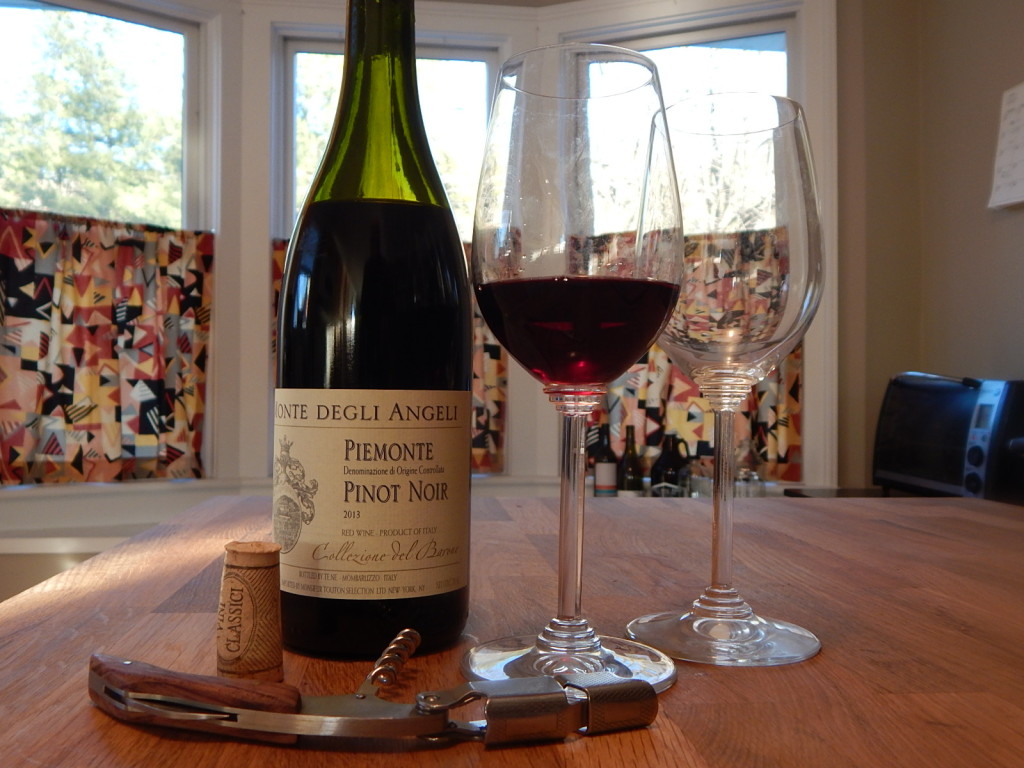 Update 4/7/2015
Marbled Meat's smoked pork chops, uncured and on the bone, for dinner.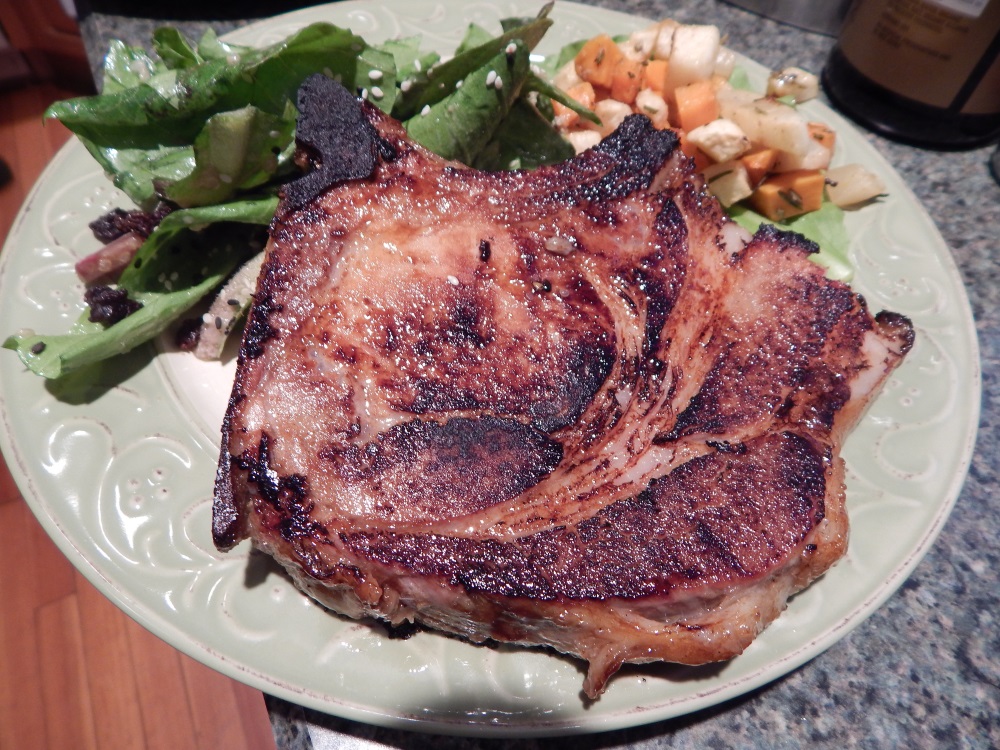 These smoked pork chops were amazing, did them with a hoisin, sriracha tamari glaze. Served with a turnip, sweet potato hash with rosemary, garlic, cumin, and cold raw Italian greens with Krazy for Kazu's Quinoa Miso Spread, veggies from Cold Spring Farmers Market or Vera's.
Oh and this fresh ham dinner was fantastic.  Sauteed in vinegar, maple syrup and mustard baste.  With fresh asparagus with garlic from the Cold Spring Foodtown and roasted potatoes, with rosemary and thyme.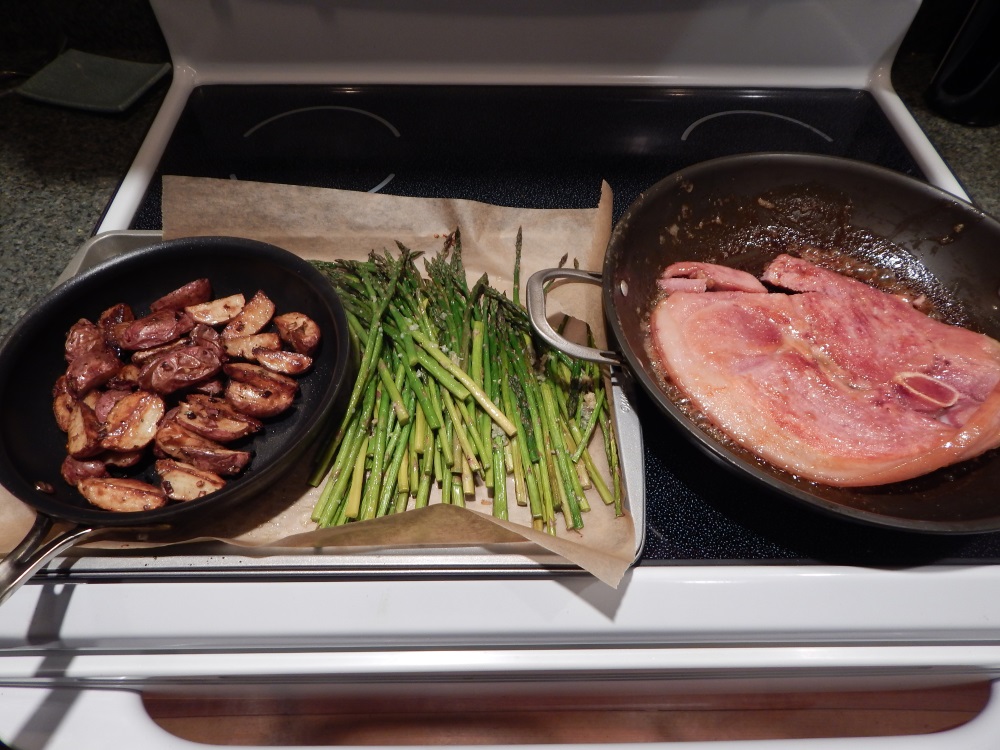 More Goodies
Besides amazing meats, fresh and frozen, chicken, sausages and fantastic cheeses and Chris's obsession Charcuterie, you will find a treasure of local condiments, accompaniments, books and accessories to enjoy at Marbled Meat Shop.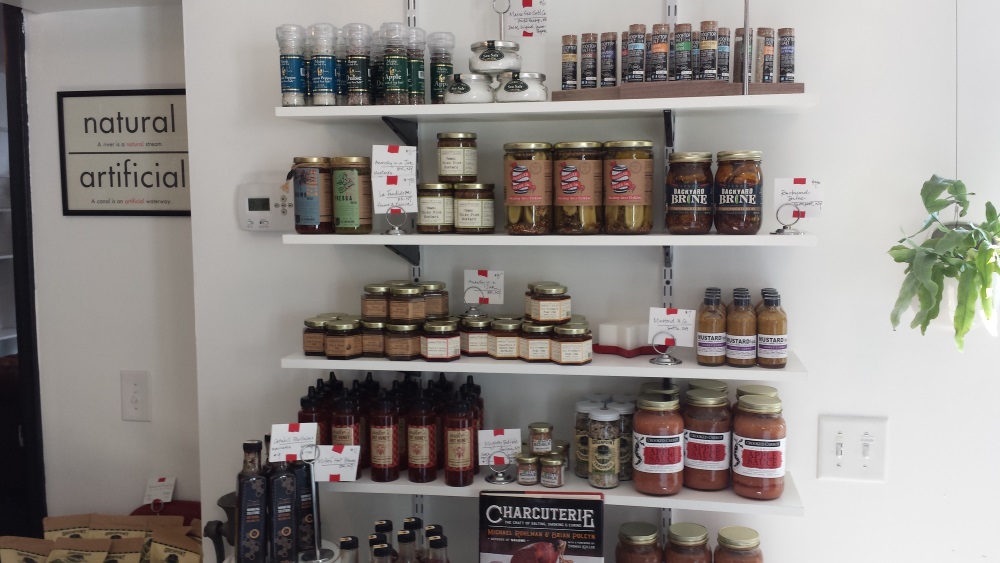 Read More about Lisa and Chris's story here, Marbled Meat Shop Launches in Cold Spring, Phillipstown.info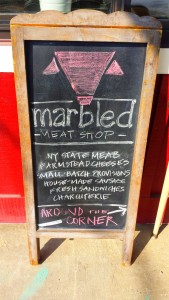 3091 RT 9 COLD SPRING, NY (845)265-2830
Next to Vera's behind Cold Spring Pantry
Places to Go, Things to Do • Dining Shopping
Beer Wine Cocktails • About the Authors